Yield: 6 servings
Besides the obvious devastation of a global health crisis, closer to home, one of the hardest parts about this pandemic for cooks is not being able to share our food with others, except those in our households.
For me, that is just two, and Bob typically eschews my vegan creations just on principle. Plus, he gravitates to the very simple, the familiar, and the repetitive. I, on the other hand, am a curious and restless cook, constantly developing new recipes and new iterations of old recipes.
So, I have ended up making small batch recipes and, generally, keeping it light and healthy so that I don't emerge on the other side of this a larger version of myself.
I find myself working more with fruit than other kinds of sweet ingredients, those some of that inclination was precipitated by reorganizing the freezer and finding four partial bags of frozen fruit that I purchased ages ago for erstwhile smoothies. And while I love crust–and cookies and cake–as much as the next person, (and used my go-to press-in crust for the last few tarts that I posted), I decided on a different approach. This one is still simple, quick, and press-in, but it requires no baking and is made from almonds, coconut, and just a tablespoon of coconut oil. No flour whatsoever.
And, while we are at it, let's talk about whipped toppings. I love them all, but they can do some serious damage in the calorie department. So, I had wondered about this for a while and finally decided to give it a try: I foamed my unsweetened soymilk just like I do for my chai tea or my hot chocolate and spooned a dab of on top. It was delicious, creamy, pretty, and held its shape!
I hope you love these pretty little confections, the filling for which could be used for tartlets, a pie, or Even a filling between cake layers.
Mini-Fruit "Pies"-in-a-Glass
Filling:
4 cups frozen fruit (I used a combination of mango chunks and mixed berries)
2 tablespoons cornstarch
2 tablespoons coconut liqueur or your favorite compatible flavor
Thaw fruit (I helped it along in the microwave), puree, and then simmer in a medium saucepan over medium heat. In a small cup, whisk together cornstarch and liqueur. Drizzle into fruit puree while stirring constantly. Adjust heat as necessary and cook until the mixture is thick and holds its shape when a little is lifted up with a spoon. By feeling cools, prepare crust.
Crust:
1/4 cup flaked coconut
1/4 cup ground almonds
1 tbsp coconut oil (solid at room temperature)
Pulse together in food processor a few times or until the ingredients cling together in balls of dough. Divide among 6 small serving cups slightly larger than a shot glass and press gently into the bottom. Fill each cup with fruit puree.
Topping and Garnish:
1/4 cup or less unsweetened soy milk (or whatever whipped topping you prefer)
Grated coconut, lemon or lime zest, and/or edible flowers
Heat soymilk for 30 seconds in microwave and, with a battery operated foamer (I use the Aerolatte), foam until thick and creamy, almost like shaving cream. Spoon a dab on top of each serving. Refrigerate or serve immediately. Nite: Topping will hold its shape for a good while but you may want to top just before serving. Garnish each dessert or the tray with fruit zest, coconut, or fresh edible flowers if you like.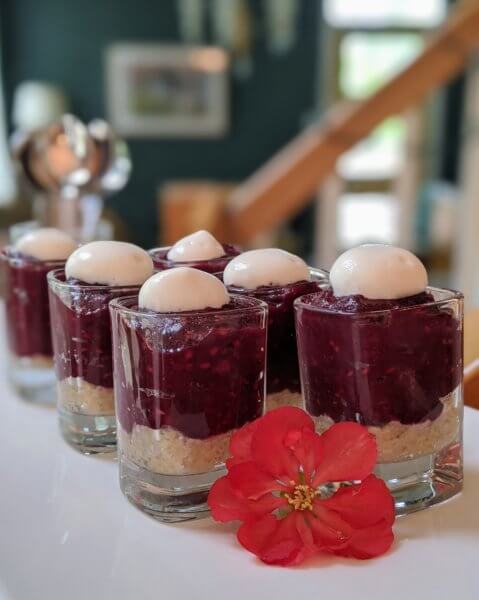 #vegan #veganrecipes #veganfoodshare #veganfoodporn #plantbased #plantbasedrecipes #plantbasedfoodshare #plantbasedfoodporn #veganfruitdesserts #plantbasedfruitdesserts #fruitparfaits #minifruitdesserts #pieinaglass