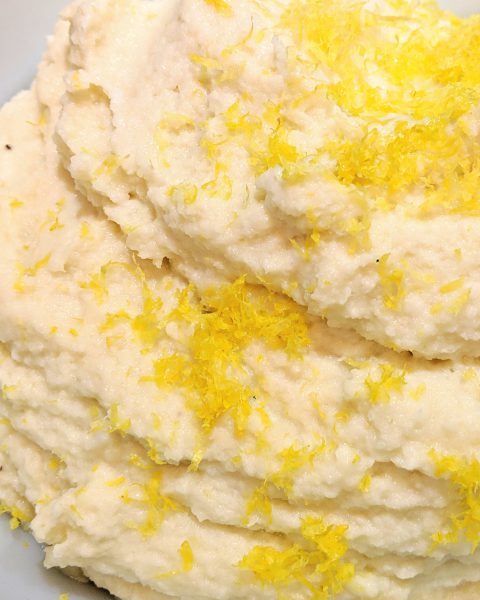 Yield: 2 to 3 servings
My secrets (and recipe) for PERFECT Vegan Cauliflower Puree–better than mashed potatoes! Rave reviews at last night's Starlight Supper Club…
1) cook only until tender; avoid overcooking
2) after cooking, even if you steam the cauliflower in a bag, drain it well on paper towels
3) for 12 oz raw cauliflower, use 1 tablespoon vegan butter and 1 tablespoon vegan cream cheese; don't omit the cream cheese!
4) fold in the zest of one quarter or more I have a large lemon–this is a game-changer!
12 ounces raw cauliflower florets (I used the steam-in-bag microwave variety)
1 tablespoon vegan butter
1 tablespoon vegan cheese
Sea salt and freshly ground black pepper
Zest of one quarter or more of a large lemon to taste
Optional: 1/2 teaspoon minced rosemary sizzled in 1 tablespoon melted vegan butter
Cook cauliflower just until tender, drain if necessary, and drain again on paper towels. Break up any large florets and process with vegan butter, vegan cream cheese, and salt and pepper to taste. Reheat if necessary and fold in zest just before serving. Drizzle with optional rosemary butter.
#vegan #veganrecipes #veganfoodshare #veganfoodporn #plantbased #plantbasedrecipes #plantbasedfoodshare #plantbasedfoodporn