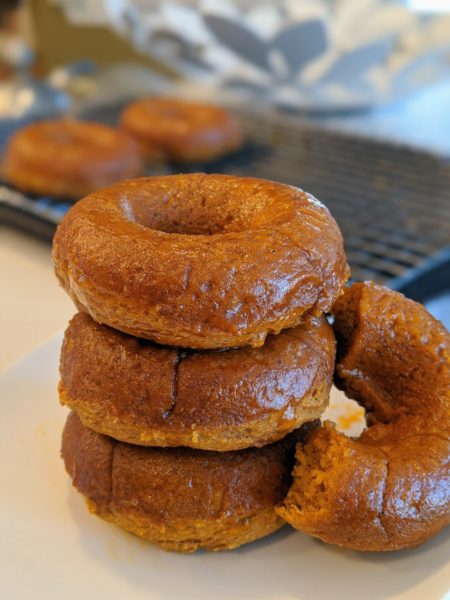 Yield: 1/2 dozen donuts (easily doubles)
Holidays are meant for baking! Today is President's Day and I am home from school, so…
I had a new baked donut 10 burning a hole in my cabinet, so I broke it out and made my first foray into the vegan baked donut world. Dangerous territory!
Stay tuned for many more iterations, but for now this hopefully will satisfy you!
Note: even if your pumpkin pie spice contains nutmeg, I would add the recommended amount because donuts just need to have that hint of subtly pronounced (what an oxymoron) nutmeg…flavor in my opinion.
Donut Batter
1/2 cup all-purpose flour
1 teaspoon baking powder
1/2 tsp baking soda
1/2 cup non-dairy milk, sweetened or unsweetened
1/2 cup canned pumpkin puree
1/4 cup maple syrup
1 teaspoon pumpkin pie spice
1/4 teaspoon grated nutmeg, fresh or ground
1/4 tsp sea salt
Glaze (recipe follows)
Preheat oven to 350°. Grease a 6- cavity donut pan. In a medium-large bowl, whisk together all ingredients until smooth. Divide evenly among cavities in donut pan. Baked for 11 to 12 minutes. Note: you can either spoon in batter and smooth, or place batter in a Ziploc bag with the corner snipped or a piping bag and pipe batter into the pan. While donuts cool, make glaze, turn donuts out of pan onto wire rack, and dip donuts individually into glaze, setting on rack glaze-side up.
Glaze
1/2 cup powdered sugar
11/2 teaspoons non-dairy milk as necessary to achieve desired glaze consistency
1 teaspoons canned pureed pumpkin
1 teaspoons apple brandy
1/2 teaspoon maple syrup
1/4 teaspoon vanilla extract
1/4 teaspoon pumpkin pie spice
In a medium bowl, whisk altogether until smooth.
#vegan #veganrecipes #veganfoodshare #veganfoodporn #plantbased #plantbasedrecipes #plantbasedfoodshare #plantbasedfoodporn #vegandonuts #plantbaseddonuts #veganpumpkindonuts #plantbasedpumpkindonuts #veganapplebrandydonuts #plantbasedapplebrandydonuts