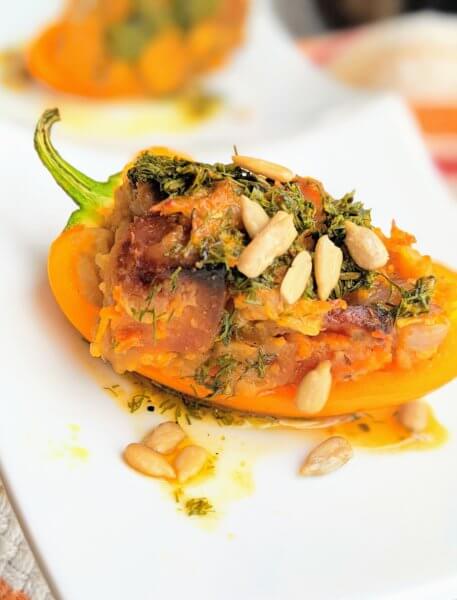 Yield: 2 dozen or 4 servings
I have often thought that I'm not sure I have a cooking style. But if I had to say, it would be a tendency toward small light, healthy and colorful bites with a nod toward global fusion…like these cute little pepper packages.
1 dozen mini bell peppers approximately 3 inches long (mine were tricolor colon yellow orange and red), have linked-wise, stems left intact
1/2 cup water
10 oz riced cauliflower
1/2 cup diced yellow or red onion
2 large cloves garlic, minced
1 tsp sea salt
1/2 cup canned pumpkin
1 teaspoon Italian seasoning or more to taste
4 tablespoons vegan butter
2 teaspoons rubbed sage
4 teaspoons roasted and lightly salted pumpkin seeds, sunflower seeds, or pine nuts
Optional: 8 or so fresh sage leaves, either raw or frizzled in skillet
Preheat oven to 450° and oil and 8-in glass or ceramic casserole dish. In a large skillet, bring water and salt to a simmer over medium heat. Add cauliflower, onion, garlic. Cook, stirring frequently, until all moisture is absorbed. Reduce heat to low and stir in pumpkin and Italian seasoning until completely combined. Lay bell pepper halves in casserole dish and concentric circles or however you would like to arrange them. spoon feeling into peppers and, if there's any leftover, you can talk a little in between the peppers. Baked for 12 to 15 minutes or until peppers are very tender and filling is hot. Meanwhile, melt butter in a small saucepan, add sage, whisk together, and set aside. When peppers are finished cooking, remove dish from oven, and drizzle butter over the top, saving a little for presentation if you would like. Divide peppers among four dishes and drizzle any remaining butter over the top. Sprinkle with pumpkin seeds, sunflower seeds, or pine nuts an optional fresh sage leaves. Serve immediately.
#vegan #veganrecipes #veganfoodshare #veganfoodporn #plantbased #plantbasedrecipes #plantbasedfoodshare #plantbasedfoodporn #veganstuffedpeppers #plantbasedstuffedpeppers #veganlightbites #plantbasedlightbites #veganItalian #veganpumpkin #plantbasedItalian #plantbasedpumpkin #vegansagebutter #plantbasedsagebutter