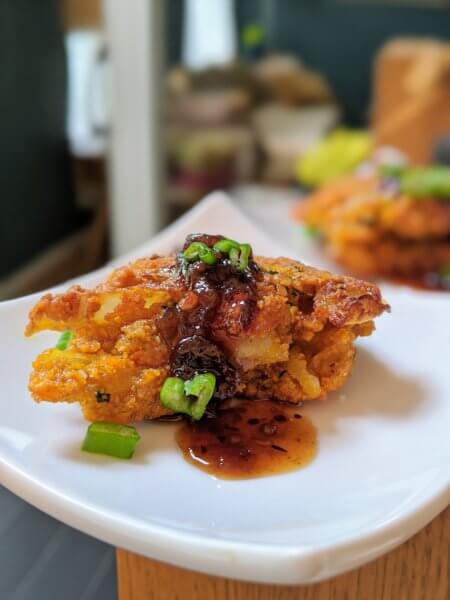 Yield: 8 pakoras (easily doubles)
Red Lentil pakoras are one of my favorite snacks from one of my favorite cuisines. I prefer this version made with soaked red lentils rather than chickpea flour. They are soo light with a crispy exterior and tender interior. Once the lentils have soaked, they whip together in minutes. However many you make, you will wish you had made more!
1/2 cup dried red lentils
2 cups water
1 1/2 teaspoons sea salt 1 teaspoon turmeric
1/4 teaspoon ground coriander
1/4 teaspoon ground cumin
1/4 teaspoon garam marsala (or curry powder) Optional: 1 to 3 teaspoons seeded and finely chopped green chili; 1 large clove garlic, halved; 1/4 to 1/2 teaspoon grated ginger (true confession: I purchase the puree in a jar)
1 tablespoon finely chopped fresh cilantro
1 small onion, preferably red, quartered and thinly sliced into slivers.
Vegetable oil to cover bottom of skillet
Accompaniments: sea salt, chutney and/or vegan raita
Garnish: snipped scallions or chives
In a small bowl, soak lentils in water with 1 teaspoon salt for at least 3 hours, but preferably more. Drain. In food processor, pulse lentils, 1/2 teaspoon salt, spices and optional ingredients until quite smooth. Carefully remove blade and stir in cilantro, and onion. Heat oil over medium high. Scoop up rounded tablespoons batter, carefully drop into oil a few at a time, and cook a couple of minutes on each side, adjusting heat if necessary. Drain on paper towels and sprinkle with a few grains sea salt. Serve warm with chutney and/or raita topped with snipped scallions or chives.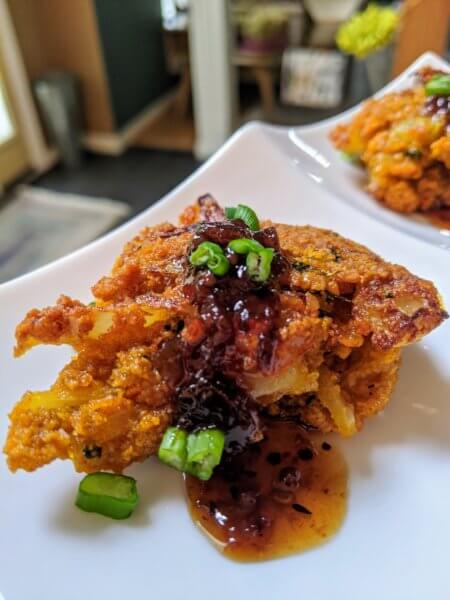 #vegan #veganrecipes #veganfoodshare #veganfoodporn #plantbased #plantbasedrecipes #plantbasedfoodshare #plantbasedfoodporn #veganindian #plantbasedindian #pakoras