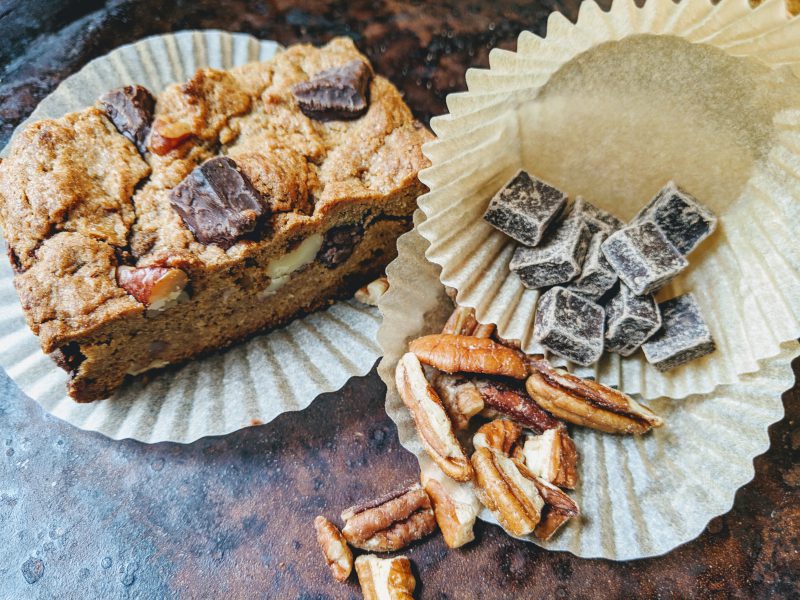 I am excited to share this recipe with you because, in vegan baking, the basics–like Blondies–just have to be just right. And I have experimented endlessly to dave you the trouble.
As an egg replacement, I highly recommend Neat Egg, a new product to me, which I found at Kroger.
3/4 cups firmly packed brown sugar, light or dark
1/2 cup vegan butter, melted
1 cup plus 2 tablespoons all-purpose flour
1/4 plus 1/8 teaspoon baking soda
1 vegan egg substitute (I like Neat Egg)
1/2 teaspoon vanilla extract
1/2 cup vegan chocolate chips or chunks
1/4 cup chopped pecans or walnuts
Preheat oven to 375 degrees and grease and flour a 5 by 9″ loaf pan. Place all the ingredients in a medium to large mixing bowl and whisk until a thick batter forms. Fold in chips or chunks and nuts. Spoon batter into prepared pan and spread evenly to fill, but avoid packing down. Bake until light brown around edges and a toothpick inserted in the center comes out almost clean, about 23 minutes. Avoid over-baking. Remove from oven and let cool slightly, invert onto a rack, and cool completely. To serve, cut into squares or rectangles with a serrated knife.
vegan #veganrecipes #veganfoodshare #veganfoodporn #plantbased #plantbasedrecipes #plantbasedfoodshare #plantbasedfoodporn