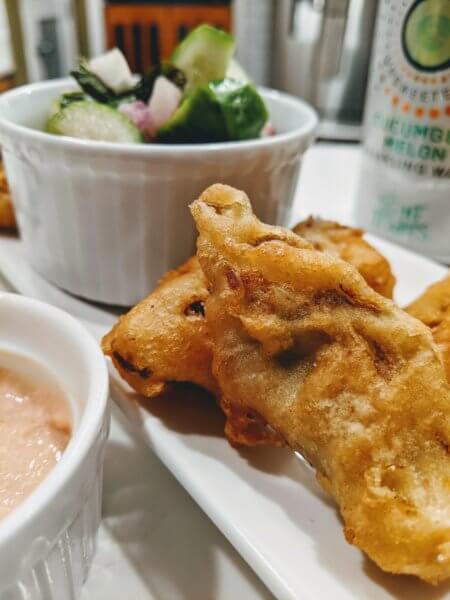 Yield: approximately artichoke heart quarters
Sometimes weeks go by without our enjoying anything from the fryer. But I am a pretty clean eater, so when the craving does strike, usually once a week, I indulge.
What makes these tempura battered artichoke heart quarters "the blooming best" is the seasoning in the batter, which can be changed up a multitude of ways to suit your fancy. I started to use Zataar and Greek seasoning with a lemon-aioli dipping sauce, but changed my mind when Bob got out the Sweet Chili Sauce for his shrimp tacos.
The key to batter that sticks is very dry, not just drained, quartered artichoke hearts. Making sure they are quarteted insures lots of surface area and the best batter-to-choke ratio. Other than that, there are no tricks other than a well-seasoned–but not over-seasoned–batter and hot, clean oil.
They are nice served with a vinegary cucumber, red onion, and fresh mint or basil salad to cteate a little balance by virtue of the acidic, herby sweetness.
1-15.5 ounce can artichoke heart quarters, rinsed, drained in a strainer, then on a plate with paper towel, changing it when soaked, for about 40 minutes
1/2 cup flour
1/8 teaspoon garlic powder
1/8 teaspoon onion powder
1/8 teaspoon sea salt
1/8 teaspoon smoked paprika
1/2 cup vegan beer (find a list at Barnivore)
Dipping Sauce (recipe follows)
Heat oil to 375 degrees in deep fryer or large cast iron skillet. In a medium bowl, whisk together flour, seasonings, and beer to make a smooth batter. Dip about 5 artichoke hearts into batter, one at a time, and place directly into hot oil. Cook 2 or 3 minutes or until golden brown. Drain on paper towel and repeat with remaining hearts. Serve right away with dipping sauce.
Dipping Sauce
2 tablespoons vegan mayo (I use a prepared no- calorie mayo or my Blooming Platter Mayo at 10-calories/tablespoon)
1 tablespoon ketchup
1 tablespoon sweet chili sauce
In a small bowl, whisk together all ingredients, taste, and adjust as desired.

#vegan #veganrecipes #veganfoodshare #veganfoodporn #plantbased #plantbasedrecipes #plantbasedfoodshare #PlantBasedFoodPorn #friedartichokeheart #tempura