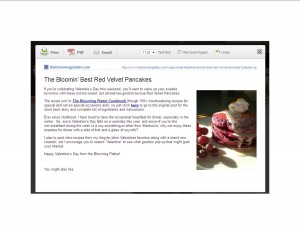 Printing any recipe from The Blooming Platter just got ridiculously easy!
I am excited to direct your attention to this brand new feature in case it has escaped your attention.  Just look for the green "Print Friendly" button at the bottom of every recipe.
It's simple to use, looks great, prints great, and gives you some nifty options as you can see in the photo: creating a pdf, emailing it to a friend, choosing a point size for the text, and printing without the photos to save ink.  Plus, "The Blooming Platter" name and the recipe's url are both included at the top so you can remember where you found it.
I hope you'll enjoy using this new convenience ad much as I enjoyed making it available.