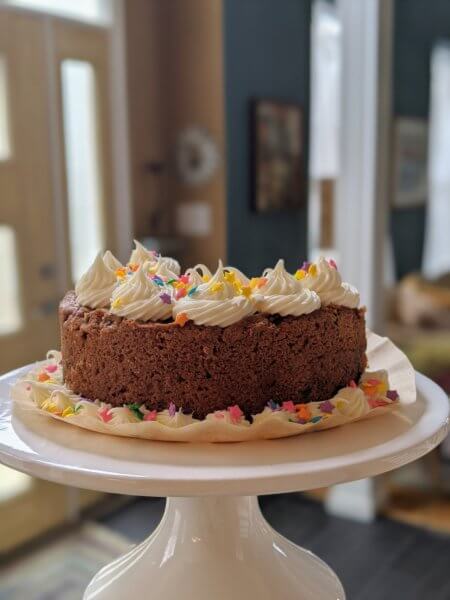 Yield: 1 6-inch cookie cake
In the midst of this pandemic, you can inject a little party vibe into your socially responsible social distancing with my simple, but festive recipe. I even cheated and used canned vanilla frosting. But the cookie cake is homemade and goes together in a flash, although it seems like we all have more time these days. I hope you agree, the texture is the perfect hybrid of cookie and cake.
Note: you can bake the cookie cake in the larger cake pan, but you would need to adjust the cooking time down.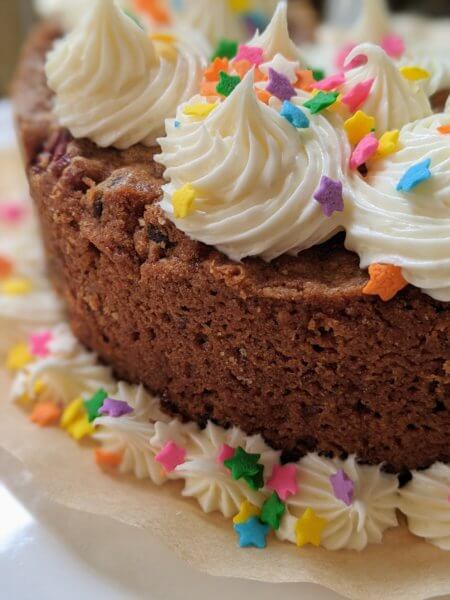 Vegan Chocolate Chip Cookie Cake
1/2 cup vegan butter
1 cup brown sugar
1 tbsp flaxseed meal
1 teaspoon vanilla extract
1/2 teaspoon baking powder
1/2 teaspoon baking soda
1 1/2 cups all-purpose flour
6 tablespoons water
1/2 to 3/4 cup vegan chocolate chips 1/2 to 3/4 cup plain or roasted broken pecans
Approximately three quarters to one cup vegan vanilla or chocolate frosting
Sprinkles
Preheat oven to 350°. Grease and flour a 6-in cake pan or spray with baking spray. Using an electric mixer, cream butter together with brown sugar. Beat in vanilla extract, baking powder, and baking soda. With mixer on low speed or start in by hand flour, 1/2 cup at a time, alternating with about 3 tablespoons water. Stir in chocolate chips and pecans. Scrape into prepared pan and gently smooth top. Bake approximately 37 minutes or until a wooden pick comes out clean when inserted near the center. A little melted chocolate may cling to toothpick and that's fine. Cool on wire rack in pan for 10 minutes. Loosen edges with a knife and then invert onto wire rack to cool. Frost as desired, either with your favorite vegan buttercream or canned frosting, many of which are vegan. Decorate with sprinkles. Or serve warm with vegan ice cream.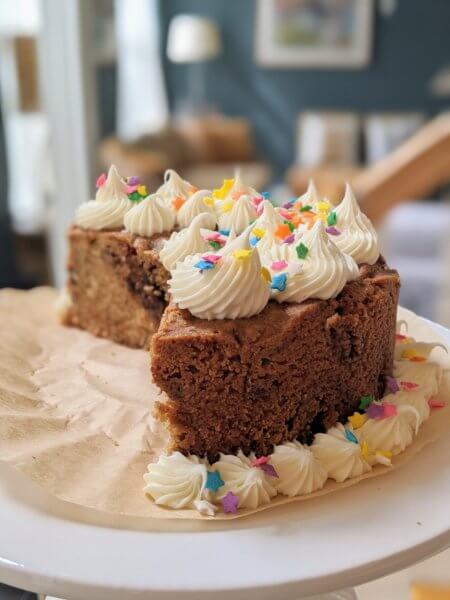 #chocolatechipcookiecake #vegan #veganrecipes #veganfoodshare #veganfoodporn #plantbased #plantbasedrecipes #plantbasedfoodshare #plantbasedfoodporn #vegan #chocolatechipcookiecake