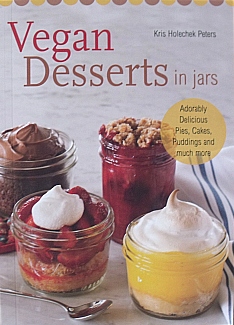 If you don't have time to read this review, I'll cut to the chase: I would certainly purchase for myself or as a gift this colorful little book of diminutive treats  baked and served in canning jars.  But, lucky me, I received a complimentary  review copy.  Available as a paperback or on Kindle, it will delight all the bakers on your holiday list.
Perhaps known best for her blog, www.nomnomnomblog.com, Peters is also the author of four cookbooks, including Have Your Cake and Vegan Too.  Her casual, peppy, and conversational writing style makes for a fun, quick read of  Vegan Desserts in Jars front material and both its chapter and individual recipe introductions.
Don't be surprised by how thin this little paperback is.  At only 124 pages, it nonetheless serves up some 75 tempting recipes and lots of tantalizing color photos.  I, for one, appreciate a small focused cookbook.  Over my years of cooking, I have found that it is the rare cookbook from which I have made more than a handful of recipes.  And, other than my Joy of Cooking, which fit the bill as an introductory cookbook covering all the basics when I was a kid, I tend to shy away from encyclopedic tomes.
With nine chapters, from no-bake treats to cakes, pies, pastry and much more, it was difficult to decide what to bake first for this review.  Ultimately, I decided to go fairly basic with ingredients I had on hand and chose chocolate cakelettes.  Many of the adorable sweets in this book are made with fresh summer ingredients like berries and peaches.  Sure, they are available year-round in grocery stores, but as a seasonal cook, I will make myself wait until summer rolls around again.
I found the "Basic Chocolate Cake" recipe to be a  keeper.  *It makes 6 cakelettes in 4-ounce canning jars that rise up nice and high begging for a swirl of frosting on their perfect little domes.  I had recently purchased a set of 12 canning jars for a few dollars at my local Kroger so I was ready to go when the mood struck.  I plan on giving this first batch of festive little treats to the office staff at the high school where I teach.  BUT I plan on asking for the jars back so that I can reuse them in the future.
If I were serving these individual cakes at home, I would make as is.  However, if making them again to give as gifts, I would probably fill the jars half-full–and make a dozen instead of six–so that I could fit the lids on.  They would still be ample  desserts, but would be more easily transportable, staying fresh to boot.
Also, my oven seems to bake pretty true to temperature, but I found that I needed to cook the cakes just a couple of minutes longer than the longest baking time specified.  The simple wooden pick test will make sure yours are perfect.  Perhaps, though, I needed to bake mine a bit longer because I can't leave any recipe alone, including my own!  To this batter, I added 1/4 cup of the new PB2 (powdered, lower fat calorie peanut butter that you mix with water) to the batter and a glug of Creme de Cacao (maybe 1 to 2 tablespoons).  Though the recipe was just lovely as published–I tasted the batter, of course–my additions were a delicious twist.  So you might keep that in mind when you're making this (or any) chocolate cake recipe!
Under "About the Author" in the back of the book, I read that Peters "practices lots of yoga."  She'd have to in order to "balance" the calorie damage done from testing the tantalizing treats in this book!
*Note that I just used the book cover as a photo to accompany this review because the lighting for photography is catch as catch can this weekend and my cakes baked up just as shown on the back left, only mine puffed up even higher.