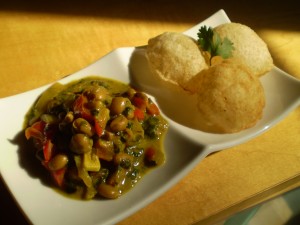 Yield: 4 servings
That title is a mouthful, but since you can't inhale the intoxicating aroma in our kitchen, I wanted you to be able to imagine what this luscious and colorful amalgamation would smell and taste like just from the title.
The "southern" part has little to do with Southern Indian cuisine, but with my south'ren roots revealed in the inclusion of blackeyed peas instead of a more traditional Indian legume.
In the photo, I served the dish as a starter, ready to spoon into miniature puri (fried bread puffs) at right, and spooned into a puri and garnished–just break through the crisp top crust with your finger or a spoon–at bottom.  But I created it to also be served over basmati rice as a main course or a welcome addition to an Indian-inspired buffet.
1 tablespoon of olive oil
1 cup of yellow onion, cut into 1/4 x 1-inch pieces (about 1 medium)
sea salt to taste
1 large red bell pepper, coarsely diced
2 large cloves garlic, thinly sliced
1-15.5 ounce can blackeyed peas, rinsed and drained
1 teaspoon ground cardamom
1 teaspoon ground coriander
1 teaspoon ground cumin
1 teaspoon turmeric
pinch of freshly ground black pepper
1-15 ounce can coconut milk (I don't use the lite, but rather cut calories elsewhere!)
2 cups, semi-firmly packed fresh baby spinach, finely chopped (I use a food processor)
1/2 cup fresh cilantro leaves, finely chopped
1 Roma tomato, cut into 1/2-inch chunks
optional: 1/8 teaspoon asafoetida
Accompaniments: miniature puri for appetizers (little spheres of puffed bread dough available in Indian markets) or over cooked basmati rice (I like to throw in a cinnamon stick and a few cardamom pods–avoid biting into either)
Optional garnishes: fresh cilantro, in sprigs or finely chopped, an/or a few roasted and lightly salted cashews
In a large cast iron skillet over medium-high, heat the tablespoon of olive oil to shimmering.  Add the onion and a pinch of salt, and saute for abut 5 minutes, stirring almost constantly, until the onion develops a light brown caramelization.  Adjust heat if necessary to prevent scorching.  Add the bell pepper and saute for 3 minutes or until it begins to soften.  Add the garlic and saute for 2 minutes or until garlic and peppers are soft.  Stir in the peas followed by the cardamom, coriander, cumin, turmeric, and black pepper.  Add the coconut milk, stir well to combine all ingredients, and heat through.  Add the spinach and cook, stirring, just until heated through.  Add the cilantro and optional asafoetida, stir to combine, and cook just another minute to allow flavors to combine.  Check for seasoning and add additional salt and black pepper if desired.  Serve in miniature puri as an appetizer or over basmati rice for a main course.  Garnish with fresh cilantro if desired.