Yield: 8 to 10
Bhaji, which is very similar to pakora, only made with water, is an addicting Indian street food and you will soon see why! Not only are they scrumptious, but they are simple to prepare.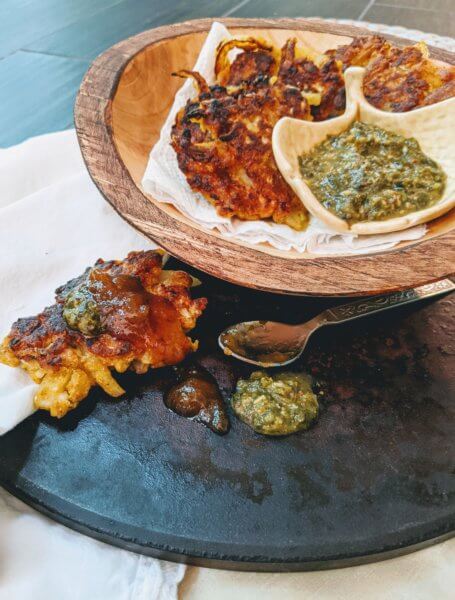 Indian has long been one of my very favorite cuisines. My traditional-ish version can be pan fried in a skillet for more of a fritter appearance, as in the photo, or deep fried for more of a free-form appearance.
Either is divine with the former being just a tiny bit trickier to cook through without over-browning one side. That is easily solved, however, by not allowing the fritter to be too thick.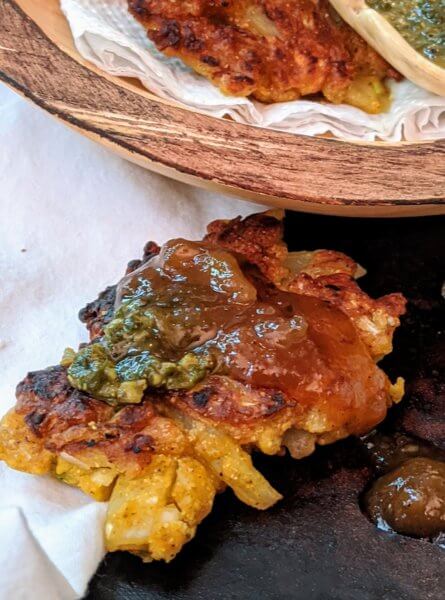 Blooming Onion and Cabbage Indian Bhaji
1 small onion halved and thinly sliced
1 cup thinly sliced cabbage (I purchase it already sliced)
1 teaspoon salt
1 large clove garlic, minced
1/2 teaspoon minced ginger
1/2 teaspoon ground coriander
1/2 teaspoon ground cumin
1/2 teaspoon garam marsala
1/2 teaspoon baking powder
1/2 cup chickpea flour
1/4 cup water
Approximately 4 to 6 tablespoons oil for frying
Accompaniments: Your favorite chutneys, e.g. mango and cilantro-mint
Line a plate with paper towel. In a medium bowl, combine all ingredients, except oil and accompaniments, with a fork until completely blended. In a large cast iron skillet, heat 2 to 3 tablespoons oil over medium heat. Using a tablespoon, dollop 5 similarly sized mounds of batter into oil, pressing gently on the tops to make approximately 1/2-in tall, but leave the form somewhat irregular. Cook for a couple of minutes, lowering heat if necessary, until golden brown. Flip and repeat. Remove to paper towel-lined plate and repeat process starting with heating 2 to 3 more tablespoons oil. Adjust heat as necessary during cooking process to prevent burning. Serve right away with chutneys of choice.
#veganpakora #veganbhaji #vegan #veganrecipes #veganfoodshare #veganfoodporn #plantbased #plantbasedrecipes #plantbasedfoodshare #plantbasedfoodporn #plantbasedpakora #plantbasedbhaji #veganIndianfood #plantbasedIndianfood