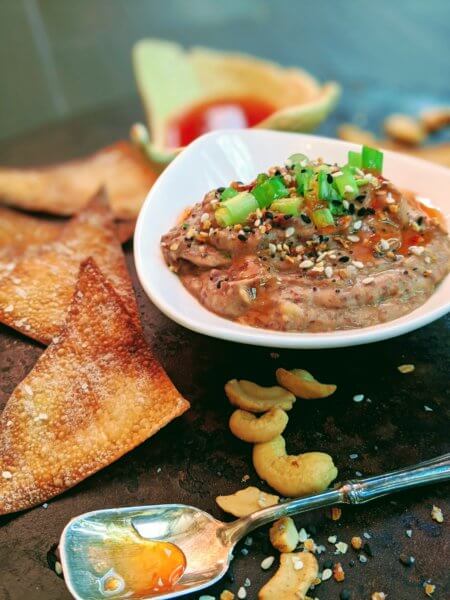 Yield: 2 servings
I love to eat like it's happy hour even when it's not. That is, I love appetizers. They are always the most enticing items on restaurant menus and, Even before the pandemic, I loved My own versions even more. The same goes for this brand new black bean dip with its Chinese flavors. It is sure to make any hour and every guest happy!
I recommend starting with the amounts of ingredients listed and then intensifying any of the flavors that you choose. Be careful with the ginger, as it can be overpowering and quite spicy.
1 15.5 ounce can unseasoned black beans, rinsed and drained
1 large garlic clove, minced
1 teaspoon minced ginger
1 teaspoon agave nectar
1 teaspoon soy sauce
2 teaspoons sesame oil
3 thinly sliced green onions, save a little for garnish
Garnish: 1 teaspoon Everything Bagel seasoning or white and black sesame seeds (Everything Bagel seasoning may seem out of place, but I love it because it contains sesame seeds along with dried garlic and onion)
Accompaniments:
Prepared vegan chili sauce and a few roasted and lightly salted cashews or peanuts
Baked Wonton Chips (recipe follows )
place everything except green onions, garnishes, and accompaniments in food processor and blend and tell smooth. Stir in green onions, reserving some for garnish, transfer to a serving bowl and sprinkle with reserved green onions and everything bagel seasoning. Serve with chili sauce for drizzling and Baked Wonton Chips for scooping.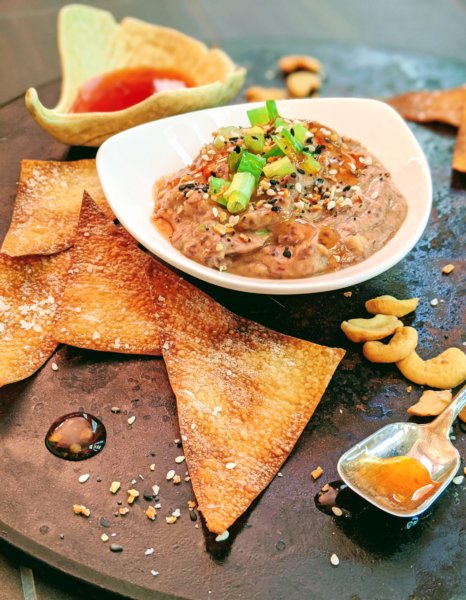 Baked Wonton Chips
10 -3″ vegan wonton wrapper squares (I use Nasoya brand, halved diagonally)
Non-stick vegetable oil spray
Sea salt
Preheat oven to 350°. Place triangles of dough close together on baking sheet, spray very lightly with vegetable oil, and sprinkle with just the barest hint of sea salt. Bake for approximately 5 minutes or until golden.
#veganwontonchips #plantbasedwontonchips #veganchineseblackbeandip #plantbasedChineseblackbeandip #vegan #veganrecipes #veganfoodshare #veganfoodporn #plantbased #plantbasedrecipes #plantbasedfoodshare #plantbasedfoodporn