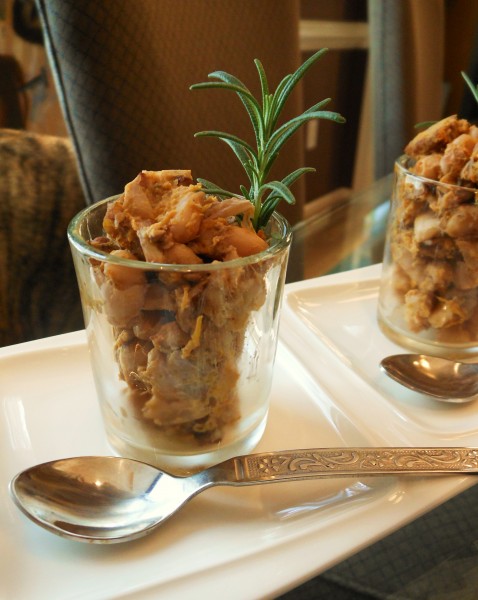 This is the perfect little nibble to stave off I-don't-think-I -can-wait-any-longer pre-Thanksgiving Feast hunger pains!
I recently created this dip or spread and love serving it as a "shooter" with tiny little spoons a friend brought me back from a trip to India.  But any small spoon will do–or mini-spreader with a side of crostini.  My serving secret?  My "glasses" are actually votive holders!
Food  just doesn't get much more delectably fall-like than this simple spread, so it is perfect for Thanksgiving.  You really can taste the contribution of each autumnal ingredient: fresh(!) pumpkin, pecans, white beans and sage.  Be sure to cook the pumpkin ahead of time so it's cooled and ready to go when you are.  (See my easy microwave directions below.)
Bind it all together with your favorite vegan creaminess–sour cream, mayo, or unflavored cashew cream–and you have a fabulously flexible shooter, dip for raw veggies or crackers, spread for a bagel, or even a filling for non-traditional quesadillas, stuffed peppers, etc.
(Where's Minnie?  Can anyone spot our female brindle Dane who is never far away when food is out?)
2 tablespoons olive oil
1 cup pecan pieces
Sea salt
1 cup diced onion
2 large cloves garlic minced
2 tablespoon dry rubbed sage
2 cans white beans, rinsed and drained
1 cup diced cooked fresh pumpkin (see super simple microwave directions below)
4 to 5 tablespoons vegan sour cream, mayo, or cashew cream
Accompaniments: raw vegetable strips or slices or crackers
Heat olive oil in a large cast iron skillet over medium-high.  Add pecans and a pinch of salt, and toast, stirring continually, for a couple of minutes.  Add onion and a pinch more salt, and continue sauteing and stirring for 2 to 3 minutes.  Add garlic and sage and continue for another minute.  Stir in beans, pumpkin and vegan sour cream or mayo and heat through, stirring continually.  Serve warm with the accompaniment of your choice.
How to Microwave a Fresh Pumpkin (The Time-Pressed Woman's Way)
1-2 pound pumpkin
Wash your pumpkin, pierce several times all-over with a sharp knife, place on a microwave-safe dish, and microwave on high for about 7 -10 minutes.  Check for tenderness, by piercing with a knife.  It if goes in easily, the pumpkin is ready.  Allow to cool, then slip off the skin, ct in half, and remove seeds and pulp.  If you prefer, you can halve and deseed the pumpkin first, but I find it puts up more resistance that way.