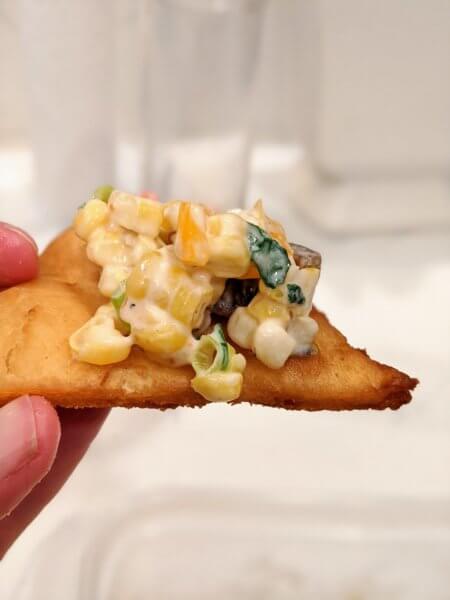 Yield: 2 servings
Dinner time arrived last night before I had a plan. Suddenly, I was famished.
While Bob deep fried pita triangles–only 30 seconds at 375 degrees–I opened the fridge to discover we had 3 cobs of grilled corn and sweet chili aioli: approximately equal parts commercially prepared sweet chili sauce and vegan mayo (I use Walton Farms no-calorie mayo…so I can have deep fried pita triangles) with a little fresh lime juice. So I whipped this together in a couple of minutes.
Grilled Corn Dip with Sweet Chili Aioli
Grilled corn cut from 3 cobs
6 Tri-color cherry tomatoes, cut into quarters or sixths
2 tablespoons, thinly sliced green onion
1 teaspoon minced fresh cilantro
Approximately 2 tablespoons sweet chili aioli or to taste (or 1 tablespoon vegan mayonnaise plus 1 tablespoon prepared sweet chili sauce and a squeeze of lime juice)
Sea salt, if needed, and freshly ground black pepper to taste
Place all ingredients in a medium bowl, start together with a fork, and serve with fried pita triangles, chips, crackers, or the vegetables slices and sticks of your choice. If not serving immediately, store in the refrigerator in an airtight container.
#vegan #veganrecipes #veganfoodshare #veganfoodporn #plantbased #plantbasedrecipes #plantbasedfoodshare #plantbasedfoodporn #vegancorndip #plantbaseddip #vegandip #plantbasedcorndip