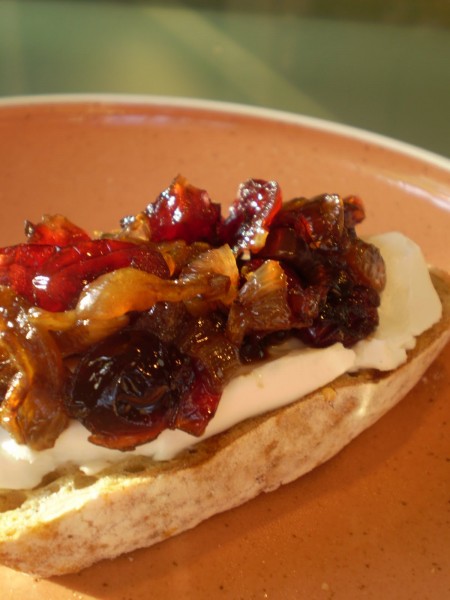 After years of a big Christmas feast, Katrina uprooted my family in MS for about a year and, that Christmas, living in a charming house "downtown" instead of in the 'burbs, I suggested that the new setting called for a new tradition.
Increasingly unenthused about jumping up from opening gifts to hit the kitchen for hours of food preparation–even though I am a passionate cook–I suggested that maybe a special soup or two and some crusty breads was all we needed.  My family, who has always enjoyed noshing, wholeheartedly endorsed my idea and we've scarcely looked back, though occasionally we've gone a bit more traditional for nostalgic reasons.
So, this tasty pairing would be lovely alongside soup, salad or cocktails; as a stand-alone on your Christmas buffet; or atop a bagel for Christmas brunch.  But, if your menu is developing toward a more traditional sit-down affair, the chutney could be spooned into a bowl and served as an accompaniment.
It's just too pretty and flavorful not to be invited to the party!