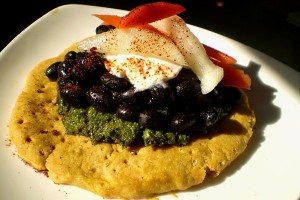 This month, the good folks at One Green Planet launched their "Superfood of the Month" program, choosing to include my favorite superfood of all time as their inaugural spotlight: nutritional yeast, fondly known as "nooch."
That's all the encouragement I needed to develop a new recipe that showcases my beloved nooch.  This golden powder (or flakes) is the food of the gods.  Rich and "cheesy" in flavor and aroma, this deactivated yeast is loaded with protein and vitamins, especially the B complex ones.  Some brands even fortify it with B-12.  It is also low in fat, calories, and sodium, and free of sugar, dairy, and gluten.
The recipe I developed is for Cornmeal and Nooch Croustades,
Just follow the link for my easy recipe for these homemade crusts that can be topped with anything you fancy.  However, they are so flavorful that they can be gobbled up alone.
You won't find this recipe in The Blooming Platter Cookbook, but you will find 150+ other recipes for spring and every season of the year.