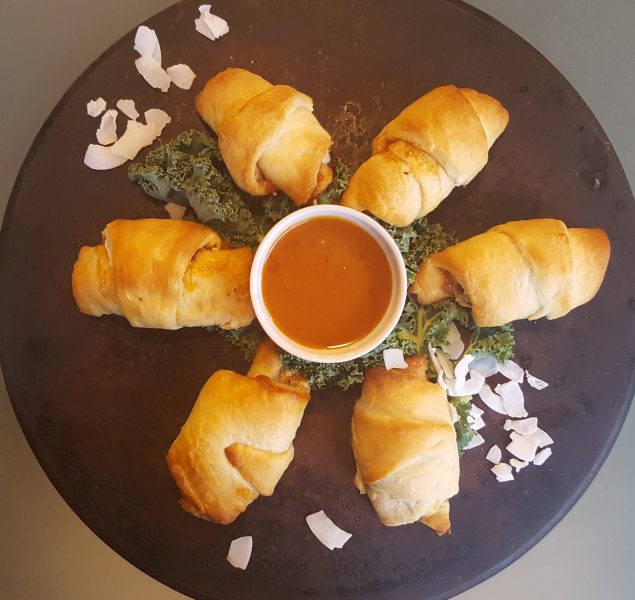 These simple retro-contemporary apps are like cute little packages, and they are so quick, easy, and satisfying.  Though they are best warm, they are even delicious cold.  I know because I have brought them to school for lunch 3 days this week and my days don't leave time to heat my lunch.
I am not sure why I even had Pillsbury Crescent Rolls in the fridge–vegan Pigs-in-a-Blanket?–but I did and I was craving my Vegan Thai Chicken Bites.  However, I had no puff pastry and no cashews.  So, I adapted.  I used the same sesame-garlic Tofurky Slow Roasted Chick'n and a dab of commercial Thai peanut sauce in both, but added a layer of vegan cream cheese to the roll-ups, and omitted the cashews.  Delish.
For presentation at home, I arranged them on a leaf of kale and sprinkled coconut shavings over the top.  But, believe me, they are also irresistible out of a Tupperware carton.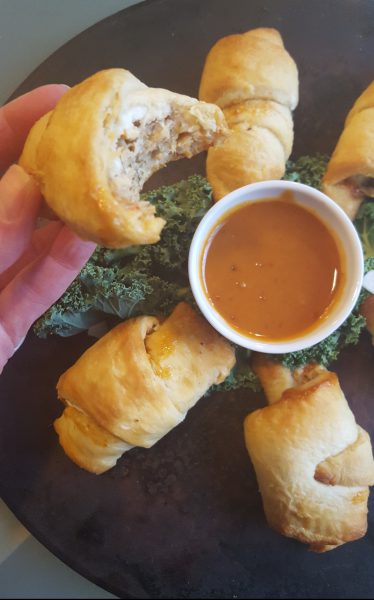 1 can Pillsbury Crescent Rolls
Approximately 1/3 cup vegan cream cheese, softened
1 box sesame garlic Tofurky Roasted Chick'n
Approximately 3 tablespoons commercial or homemade peanut sauce + extra for dipping
Optional: fresh kale leaves and coconut shavings
Preheat oven to 375 degrees.  Line a baking sheet with parchment paper or Silpat (silicone baking sheet) or spray with nonstick spray.  Unroll crescent roll dough and separate triangles, laying them a couple of inches apart on baking sheet.  Spread with about 2 teaspoons of vegan cream cheese, top with about 1/8th of the chick'n, drizzle with about 1 teaspoon of peanut sauce, and roll up beginning with wide side of dough triangle opposite point.  Bake for approximately 15 minutes or until golden brown.  Let cool enough to handle and then serve immediately on an optional bed of kale sprinkled with coconut shavings and a dish of extra peanut sauce for dipping.