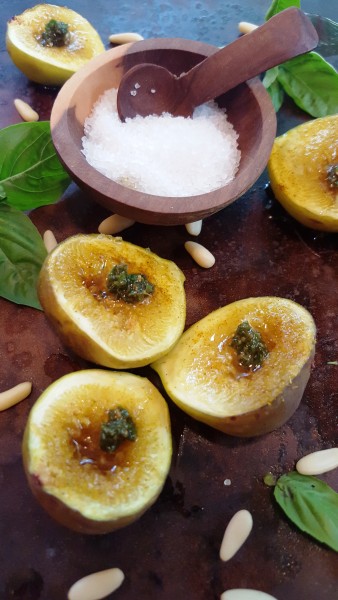 Yield: 8 bruleed fig halves
As everyone probably knows now, when the rhythm of my life changed on July 30, so did my approach to cooking and eating.
For a week after my husband passsed away, I ate almost nothing.  But I have now segued to slightly more than nothing or what I call mini-meals.  They are gorgeous and nutritious, but they are tiny and, for folks eating normally, are perfect sides.  (These figs were today's lunch with a peanut butter rice cake.)
Whereas, in days of old, communities rallied round those who had lost loved ones with heavy comfort foods.  In contrast, my tribe surrounded me, as I may have mentioned, with a bounty of fruits–figs and more figs–vegetables, salads, prepared vegan dishes, and vegan bakery treats that went into goodie bags for out-of-towners booked at the Westin for Joe's (amazing) Celebration of Life.
My artist friend, Sheila Gioliti brought the biggest and the firmest figs which inspired this glorius oh-so-simple recipe.
4 large slightly firm fresh figs, stemmed and halved
2 teaspoons granualted or brown sugar (I use demerara)
1/2 teaspoon coarse sea salt
1/8 teaspoon curry powder (mild or "warm")
1/8th teaspoon smoked paprika
Optional: 1/2 teaspoon vegan pesto or chimichurri (or more to suit your taste)
Garnish: fresh basil or cilantro and pine nuts, roasted or not
Prheat broiler.  Arrange figs, cut side up, on a baking sheet.  In a small cup, whisk together sugar, salt, and curry powder.  Sprinkle on figs, dividing evenly among them.  Broil for 3 minutes or until surface of figs is slightly caramelized, but figs still hold their shape.  Top, if desired, with pesto or chimichurri and serve with fresh sprigs of basil or cilantro, and pine nuts.