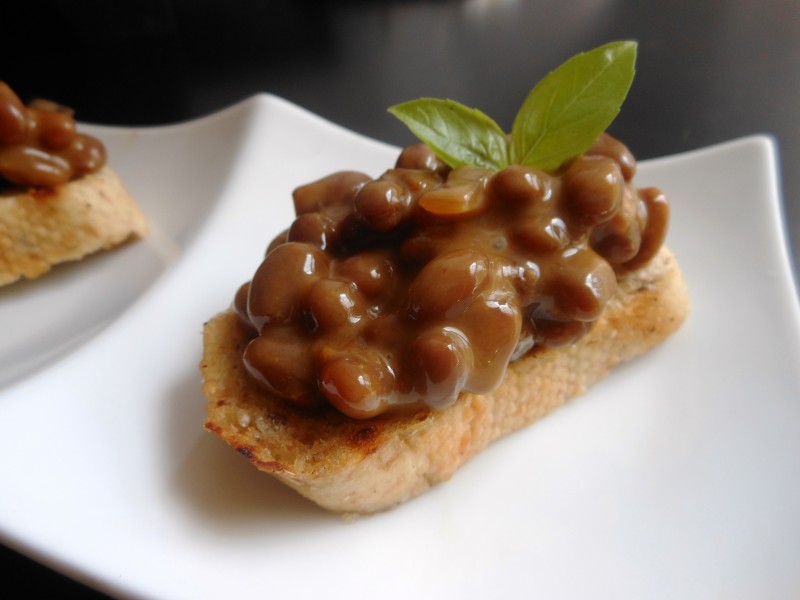 Yield: 12 crostini
My parents have a nack for making any simple run-of-the-mill meal or activity seem special.
When I was a kid, a favorite sandwich that my mom would whip up with leftover baked beans was simply cooled beans mixed with mayo and pickle relish served between slices of toasted white bread, with or without butter lettuce.
Make this delicacy yourself in minutes and watch it disappear!
Because I love to nosh, my modern twist on her tradition is simply to serve the filling openface on small pieces of grilled crostini.  I made these yesterday for an evening beach picnic with a good friend.  Bean-filled bliss!
Approximately 1 1/2 cups thick baked beans, chilled (I used a 15.5 ounce can of Bush's vegan "Steakhouse" variety that I baked for about 25 minutes at 350 degrees to thicken and concentrate flavors)
2 to 3 tablespoons vegan mayonnaise
1 tablespoon sweet or dill pickle relish
Optional: 2 sliced scallions, both white and green part (stir in or use as garnish)
12 thin slices lightly oiled and grilled or toasted bread (Italian, French, etc.)
Optional garnish: tiny sprigs of fresh basil
Stir together beans, mayo, relish, and opitonal scallions until combined.  Pile on top of grilled bread and garnish with basil.  Serve immediately.