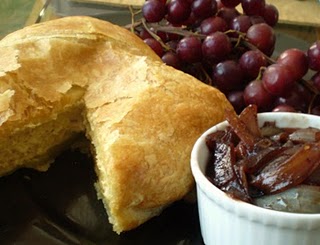 Yield: two wheels of vegan "brie"
When I was a vegetarian, one of my guiltiest pleasures was Brie en Croute or brie baked in puff pastry. Good grief that was a lot of calories, fat and cholesterol! I've been vegan for a few years now and, while I have made several different vegan cheeses that I love (and have included on this site), I had never attempted my beloved baked brie until today. I think I was afraid it wouldn't work and I would be inconsolable.
But, I steeled myself and went to work, though it was hardly any work at all. By slightly altering Jo Stepaniak's vegan brie recipe–essentially omitting the agar and water since I was going to bake mine–the "cheese" came together in a snap in the food processor. And with a fine vegan puff pastry readily available in the freezer section of most grocery stores, courtesy of Pepperidge Farm, the "croute" is a no-brainer too.
Since the base of the "cheese" is tofu and cashews, and since tofu bakes up nicely, there is no chance of oozing and running "seepage," as there is with diary brie. So there is really nothing to be concerned about. Hot out of the oven it is a glorious thing to behold and it tastes divine on its own or, especially, with grapes and my Vegan Red Wine Onion Jam.
I've enjoyed Brie en Croute with all kinds of delicious things baked inside or spooned over the top–e.g. chutney or a pecan praline sauce–but onion jam is so "in" these days and it's one of my favorite new condiments. You may cook it down as much as you like. I was starving and didn't cook it as long as I might have so, in the photo, it may be a little less "pulpy" than you will want yours. You can also control the texture by how thinly you slice the onion. You could even dice it instead.
Now, will the taste or texture fool anyone into thinking that this is true dairy brie? No, but it's so good (and a lot less oily) that no one will care except to be glad that the 8th deadly sin is now practically a virtue.
For this recipe and some 170+ more,
I invite you to purchase my first cookbook:
The Blooming Platter:
A Harvest of Seasonal Vegan Recipes
Vegan Heritage Press
Spring 2011