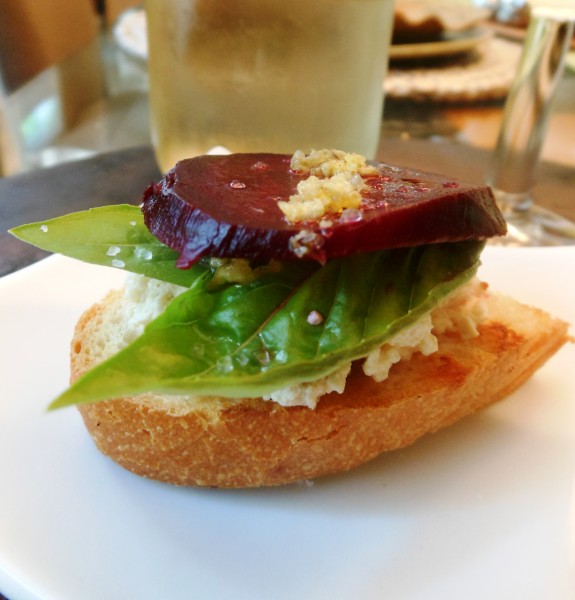 Yield: 4 servings (8 bruschetta)
As I've mentioned, the newly formed Starlight Supper Club consisting of three couples–a vegan (me), 2 vegetarians, 1 pescetarian and, yes, my husband the carnivore–celebrated our inaugural dinner last Saturday night at the home of Becky Bump and Reese Lusk.  The setting–their tiny log cabin with an exquisitely designed interior and a furnished deck on Chubb Lake–was outdone only by the food and company.
The appetizer alone set me off on a several day-binge of Beet Bruschetta.  I can't believe I never thought of it before, but it has quickly become a staple.  Becky and Reese made theirs on Reese's delicious sourdough bread, but I just used bread from the bakery section of the grocery store and it was tasty.
Be sure to roast the beet a little over an hour before serving time.  And keep the bruschetta on the smaller side or it is too difficult to pick up and enjoy.
1 fist-size beet (which will shrink slightly while roasting), rubbed with olive oil, sprinkled lightly with salt, wrapped in foil over a pan to catch drips, roasted at 375 degrees for 45 to 60 minutes or until tender, and slightly cooled
3 tablespoons olive oil
1 large clove garlic
Sea salt
8-1/3 to 1/2″ thick slices ciabatta bread (or something similar), about 2 1/2″ in diameter
Approximately 7 ounces extra firm tofu, crumbled (half of a 14 ounce box, as is available here) or Homemade Vegan Ricotta
Freshly ground black pepper
8 large basil leaves
While beet roasts, mince garlic into olive oil, add a tiny pinch of sea salt, stir to combine, and set aside.  While beet is cooling, brush bread very lightly with garlic oil and grill in an indoor grill pan over medium-high for 2 to 3 minutes per side or until lightly toasted.  (If you don't have a grill pan, broil, watching carefully).  Lightly mash tofu with about 1 teaspoon garlic oil and a pinch of sea salt and freshly ground black pepper.  Cut beet into 8 slices, crosswise.  Divide tofu among bread slices and place a basil leaf on top of each, followed by a beet slice.  Drizzle with garlic oil and finish with a few grains of sea salt.