Autumn is apple season whether you are bobbing for them, caramelizing them, making apple pie, or enjoying them with my Caraway- Havarti Cheese Spread.
I love local apples, as the character of even the skin hasn't been genetically-engineered right out of them.  And, fortunately for us, we can start finding them at our farm markets in summer and continue right on through the fall.  This Caraway-Havarti Spread is delicious spread on crisp slices of raw apple or made into sandwiches, so I offer a couple of sandwich suggestions at the end of the recipe.
And tomorrow, I offer something even better: a "teaser" recipe from my new Blooming Platter Cookbook–a lentil-apple salad with a special dressing and a secret new addition–that will be perfection served with a little of this cheese spread on a slice of melba toast.  And speaking of secret ingredients, my cheese recipes incorporate (vegan) beer for a little more of a fermented-aged taste.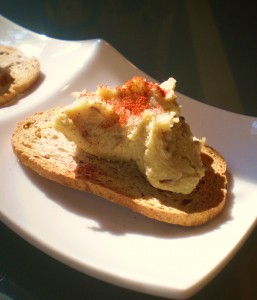 Yield: approximately 2 cups
2 cups raw cashews
2 tablespoons nutritional yeast
1 medium garlic clove
1/2 teaspoon sea salt
Pinch of freshly ground black pepper
1/2 teaspoon garlic powder
1/4 teaspoon onion powder
1 teaspoon miso paste (I used red organic miso)
3 tablespoons unsweetened soymilk
6 tablespoons (vegan) beer
1 teaspoon fresh lemon juice
1 tablespoon caraway seeds
Accompaniments: Melba toast, crackers, and/or fresh apple slices
Place all ingredients except caraway seeds in the bowl of a food processor fitted with a metal blade.  Process several minutes or until quite smooth.  Taste and adjust seasoning if necessary.  Add caraway seeds and pulse a few times to combine.  Scrape into a crock or other airtight container and store in the refrigerator.  Allow to warm slightly at room temperature before serving, as it will spread more easily.  Delicious spread on apple wedges or in a sandwich made of toasted thinly-sliced rye bread, the cheese spread, and thinly sliced raw or grilled apple.   Raw provides a lovely texture contrast–I love the "snap" of a crisp juicy apple–but grilled apple is a unique taste sensation.  Just lightly salt the slices and grill them indoors in an oiled grill pan over medium high heat for 2 to 3 minutes on each side, but raw apple is  lovely texture contrast. You can even make a grilled apple and cheese sandwich, in which case I use the thinly sliced raw apple.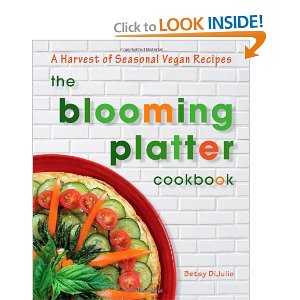 For 150+ fresh seasonal recipes, I invite you to check out The Blooming Platter Cookbook: A Harvest of Seasonal Vegan Recipes.