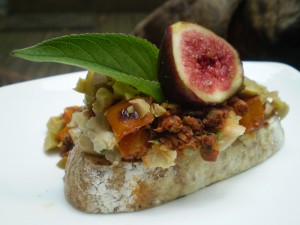 Yield: approximately 12 crostini or 4 servings (you may have slightly more bean and chorizo topping than you need)
I love figs any way I can get them, which is dried most of the year.  But come late August in our area, we are treated to a brief and fleeting flourish of the fabulous fresh fig.
Though there is nothing wrong with enjoying them straight out of the bag, I like to make them last by using them to top salads, tarts and, here, a hardy, yet summery, crostini.  This preparation was partially inspired by a non-vegan dish that our friend Sharon Tanner brought to our annual "Happy Birthday Julia Child's" potluck dinner party.   The sauce for her dish featured prunes and green olives.  It was but a short mental leap from there to my slightly Spanish summer stack.
Grilled rustic bread serves as the crostini.  A simple and flavorful mashed white bean mixture forms the first layer which is topped with a spicy vegan chorizo, orange bell pepper, and spinach mixture followed by chopped green olives and deliciously different Spanish Marconi almonds.  When figs are not in season, you could stop right there and be perfectly happy.  However, when they are, crown this layered Mediterranean mini-feast with half of a plump fig and the herb of your choice and you will have created a still life on a (blooming) platter.  See the photo at bottom for the special ingredient in my still life.
12 pieces rustic bread, sliced on the diagonal about 1/3 to 1/2-inch thick and grilled (about 3 to 3 1/2 inches in length is a nice size)
6 to 8 tablespoons olive oil, divided
1 medium yellow onion, cut into 1/4-inch dice
Sea salt to taste
3 large cloves garlic, minced
2-15 ounce cans white beans, rinsed and drained
Freshly ground black pepper
Approximately 1/4 cup coarsely chopped fresh parsley
1 orange bell pepper, stemmed, cored and seeded, cut into 1/4-inch dice (red or yellow bell pepper would be just as lovely)
12 ounces vegan chorizo, casing removed and crumbled (I use Trader Joe's brand)
2 cups lightly packed fresh baby spinach, finely chopped (I pulse it about 10 times in a food processor)
approximately 1/4 cup coarsely chopped pitted green olives
approximately 1/4 cup coarsely chopped Marconi almonds (feel free to substitute another roasted and lightly salted type of almond, but these have an extra-special flavor and crunch, especially if the skins are left on)
In season: 6 fresh figs, stemmed and sliced in half vertically
Garnish: 12 leaves of your favorite compatible herb (I used a pineapple sage in the photograph)
In a large cast iron skillet over medium-high, heat  1 tablespoon of the olive oil to shimmering.  Add the onion and a pinch of salt and saute, stirring frequently, for 3 minutes or until softened.  Add garlic and saute another 30 seconds to a minute or until also softened.  Stir in beans and heat through.  Season with salt and pepper and mash the mixture coarsely with a potato masher.  Stir in 4 to 6 tablespoons of olive oil, just until the beans take on a pleasant creaminess, followed by the parsley.  Scrape into a bowl and set aside.
Wipe out the skillet and heat the remaining tablespoon of olive oil to shimmering over medium high heat.  Add the bell pepper and saute about 3 minutes, stirring frequently, until softened.  Add the chorizo and saute, stirring, until heated through.  Stir in the spinach and cook, stirring  continuously, for another minute.  Remove from the heat.
To serve, top each crostini with about 1/12th of the bean mixture, followed by about 1/12th of the chorizo mixture, 1 teaspoon of chopped olives and 1 teaspoon of the chopped almonds, nestling a fig half on top and garnishing as desired.  Serve immediately.  Note: if 1/12th of the bean and chorizo mixtures seems like too much of a good thing, use whatever amount seems appropriate.   Store any leftover mixtures in airtight containers in the refrigerator.