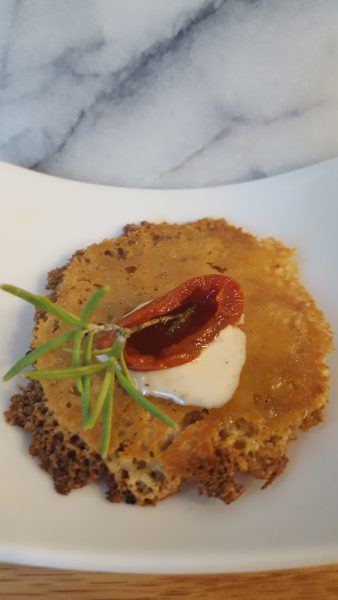 Yield: 4 crisps (recipe easily multiplies, but they are rich)
Yesterday, I purchased a new carton of Follow Your Heart brand vegan parmesan for a dinner party last night. But about 3 tablespoons remained in the previous carton. Wanting to save room in the fridge, I was about to combine them when the Parmesan Crisp idea struck.
I was afraid of a failed gooey or frizzled up failure, but 3 tablespoons wasn't a huge gamble.  Wow!  I needn't have been concerned. The results were company-worthy.
I squirted a little Just brand vegan Ceasar dressing on top and garnished with a sliver of marinated red pepper and a sprig of rosemary, as these are perfectly firm enough to pick up, sturdy enough for a topping, and both crispy and chewy.
They are delightful and deeply satisfying.
Vegan Parmesan Crisps
3/4 cup Follow Your Heart brand Non-Dairy Parmesan Cheese (it is sold shredded)
Toppings and garnishes of choice
Lightly spray a skillet with nonstick spray and place over medium heat. Using 3 tablespoons each of the parmesan cheese, make 4 mounds and then carefully  press them out with your fingers or a fork into a fairly flat pancake shape. Cook a couple of minutes or until cheese melts, holds together in a disk, becomes crispy around edges, and is lightly browned on underside. Flip with a spatula and cook just another 20 or 30 seconds. They should flip very easily. *Adjust temperature as necessary.  You may want to make one test crisp to determine correct time and temo on your range before making a batch.  Top as desired or offer options and let guests top their own.
*Note: I have a very powerful new range and what used to require medium-high heat, now takes medium or even low heat.