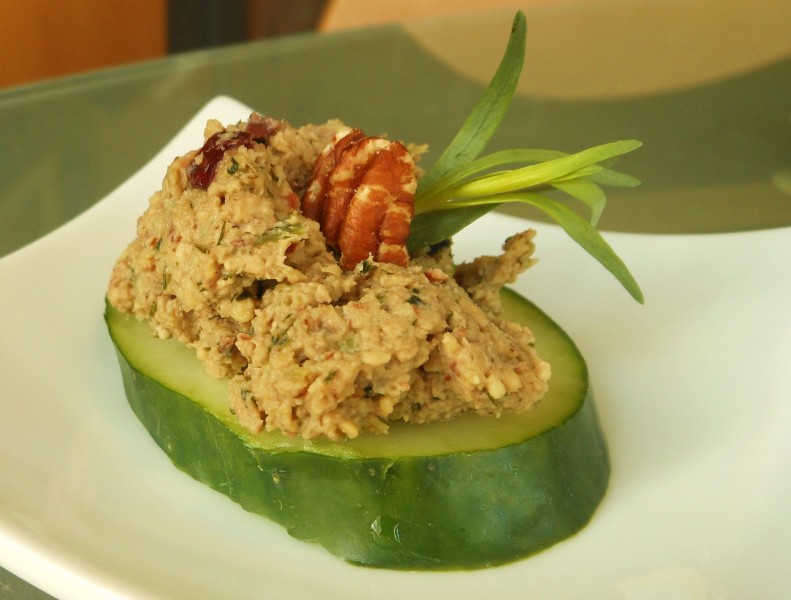 Yield: 4 servings
I actually created this throw-it-all-in-the-food-processor-simple no-chicken salad recipe from ingredients I had in the house while I was "snowed in."
But, now that the snow is melting and folks in many states will be headed back to school and work tomorrow, I wanted to post it as a delicious lunchbox option.  Also, though, with the Super Bowl tonight, it's a delicious and nutritious spread for crackers and, as you can see in the photo, it dresses up nicely for a "fancier" cocktail party.
I have created many versions of no-chicken salad, some here on my blog and some in my cookbook.  This one is made with wholesome tempeh, roasted pecans, and dried apricots, and is delicious served as you would any chicken(less) salad: in a sandwich, on crackers, or on my low-calorie, highly nutritious preference: sliced cucumber.
1/2 cup pecan pieces
4 celery ribs, cut into 2-inch pieces
1/4 cup dried apricots, halved
1/8 teaspoon garlic powder
1/8 teaspoon onion powder
8 ounces tempeh (any kind), coarsely crumbled
4-5-inch stems fresh dill, leaves stripped
4-5-inch stems fresh tarragon, leaves stripped
1/4 cup vegan mayonnaise
Accompaniments: bread for sandwiches, crackers or sliced cucumber
Optional garnish: fresh dill sprigs and/or pecan halves or pieces
Roast pecans for a few minutes with a pinch of salt in a dry skillet over medium-high heat; transfer to bowl of food processor.  Add celery, apricots, garlic and onion powder, and pulse a few times until coarsely chopped.  Add tempeh to skillet in which pecans were roasted and roast, stirring frequently, just until it begins to turn golden brown in spots; transfer to bowl of food processor.  Add dill and tarragon, and pulse until all ingredients are finely chopped.  Add mayonnaise and pulse a few more times until mixture comes together.  Serve in a sandwich, spread on crackers, or as canapes perched atop slices of fresh cucumber.