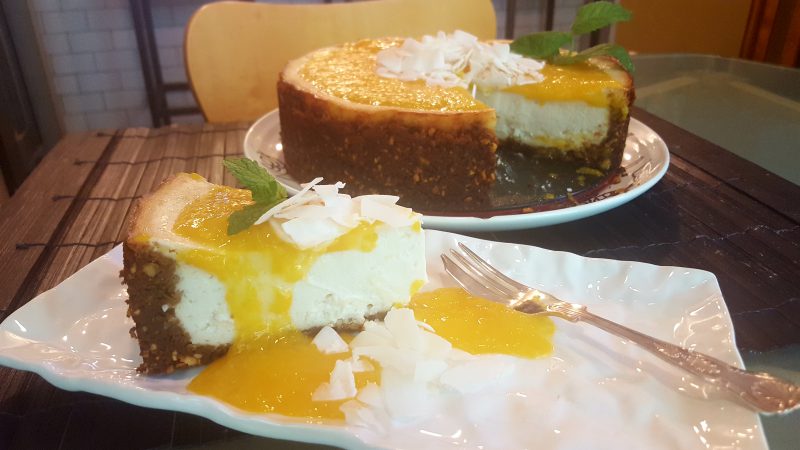 Are you ready?  Ready for the best cheesecake that will ever pass your lips (if I do say so)?  If so, then keep reading.  And if you could care less about the back story and want to get straight to the heart of the matter, by all means, scroll down to the recipe below.
True confession: my first attempt at veganizing my dear friend and inspired culinarian, Yvette Hetrick's, cheesecake was an eipic fail.  According to prevailing wisdom, one should never make a dish for the first time for company.  But I did.  And while it was beautiful and edible and our friends were very gracious, it was in no way up to my high standards.
There were so many issues. For starters, the chili-infused gingersnap crust was delicious but overcooked.  In addition the top cracked, though not resulting in terrible craters; the mandarin orange compote/jam swirled into the batter never set (I'm not sure how it would even in a dairy version) and the cheescecake around it was underdone; and Y's beautiful concentric circles of mandarin orange sections deocrating the top made it difficult to cut.  However, the worst infraction was it's dark color and strangely "off" taste.
Disappointed but driven, I did what I always do: I researched, I ruminated, I re-imagined, and I cherry-picked the best aspects of a number of cheesecakes, both vegan and not, and tried it again, this time with stellar, can't-top-this results.  And I served it again to the same friends who raved.
To solve the overcooked crust issue, I made it exactly the same, only I froze it rather than baked it before filling.  To prevent the top from cracking, I baked the cheesecake at a lower temperature–325 instead of 350 degrees–and, as before, I let it cool completely in the oven with the door partially open.  And to make sure it cooked through, instead of swirling a purchased–and bitter–orange jam into the batter, I made my own compote and used it to top the cheesecake which solved the underdone issue as well as the difficult-to-slice issue of decoration.
Regarding the dark color and "off" taste, I decided that, though I love coconut sugar and demerera sugar as much as the next gal–in fact, it's all I bake with–a beautiful white, delicate, clean-tasting cheesecake calls for white granulated sugar. Sorry.  But that's just the long and short of it.  The rich color and deep flavor of other less processed "brown" sugars simply results in a vastly inferior product.
So, now, with  no fruther ado, I present to you my little slice of paradaise.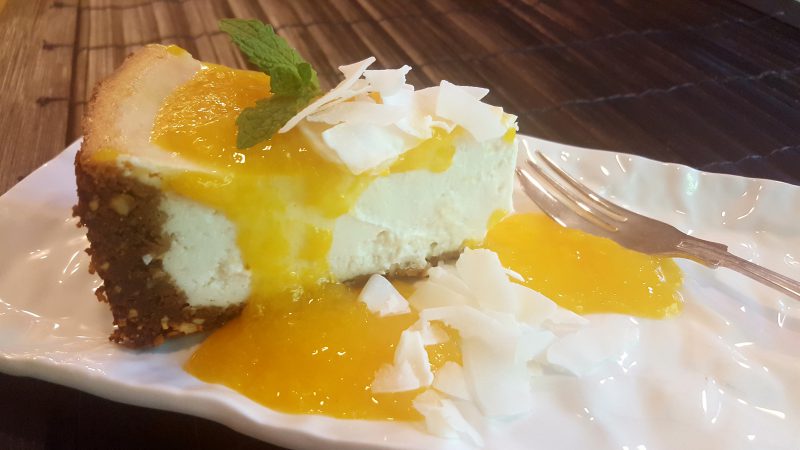 Note:  to make the best plain cheesecake you've ever eaten, simply prepare a traditional graham cracker crust, substitute plain soy or almond milk for coconut milk, and omit orange liqueur, orange zest and optional coconut extract.  Never fear, this cheesecake is delicious with no topping at all, but feel free to top with any flavor compote or other concoction you choose.
Crust:
4 cups whole gingersnap cookies (the crispy/crunchy kind)
1 cup spicy peanuts (or your favorite spicy nut)
1/4 cup granulated sugar
1/2 cup vegan butter, melted
Pulse cookies in a food processor until coarse crumbs are formed.  Add nuts and sugar and continue pulsing until finer crumbs are formed.  Drizzle in butter and pulse just until moist clumbs are formed.  Distriubte mixture into the bottom of an 8- or 9-inch springform pan and press evenly onto the bottom and 2 inches up the sides of the pan.  Freeze while you prepare filling.
Filling:
14 ounces firm tofu, drained
16 ounces vegan cream cheese (I use Tofutti brand)
1 cup granulated organic white sugar
3 tablespoons cornstarch
1 cup thick coconut milk (I use So Delicious Culinary Coconut Cream purchased at Whole Foods)
Juice of 1/2 large lemon
Zest of 1/2 large orange
1/4 cup orange liqueur (e.g. Grand Marnier or Triple Sec)
1 teaspoon vanilla extract
1 teaspoon almond extract
Optional: 1 teaspoon coconut extract (for a more pronounced coconut flavor)
Topping–Mandarin Orange Compote:
2-10.5 ounce cans mandarin oranges
1/4 cup orange liqueur
Zest of 1/2 of large orange
2 tablespoons cornstarch
Garnish:
Shaved coconut, fresh mint sprigs, and optional whipped coconut cream or Coco-Whip
Preheat oven to 325 degrees.  Rinse and wipe out bowl of food processor.  Process tofu and cream cheese until smooth.  Add all remaining filling ingredients and continue processing until creamy and silky smooth.  Pour into frozen crust and gently smooth top.  Place cheesecake on a baking sheet and bake for 1 hour and 20 to 30 minutes or until set, very lightly browned around edges, and slightly jiggly only in the very center.  Turn off oven, open oven door halfway, and allow to cool completely in the oven which will take several hours.  Cover and chill for a couple of hours.
Meanwhile make Mandarin Orange Compote.  Drain 1 can of oranges, reserving juice in a small bowl, and place the orange sections in a medium saucepan with remaining can of oranges in juice.  Add orange liqueur and orange zest and bring to a simmer.  Simmer for 2 to 3 minutes, stirring frequently.  Whisk cornstarch into reserved orange juice and slowly pour into simmering mixture, stirring continually.  Simmer a couple more minutes, remove from heat, transfer to a heat-proof bowl, and refrigerate until very cold.
Run a knife around the edge of the cheesecake, remove it from the pan and place it on serving platter.  Spread half of compote evenly over the top of the cheesecake, mound shaved coconut in the center, and add a sprig of mint or two.  Serve in slices with an additional mint sprig if you choose, and pass remaining compote.  If you really want to gild the lily, also pass a bowl of whipped coconut cream or a prepared product like Coco-Whip.