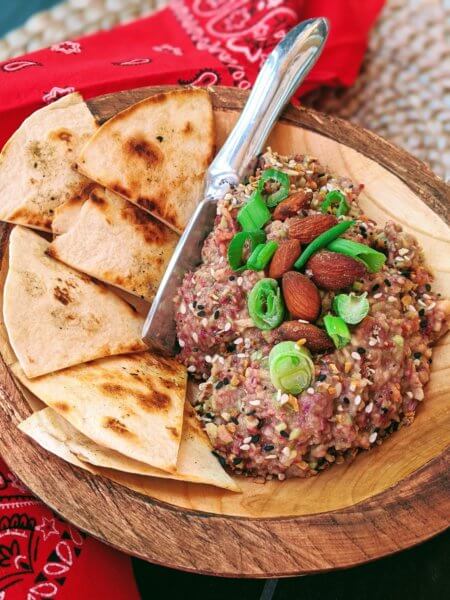 This delicious dip offers vegans all the delicious flavors of a summer cookout without the meat, mayo, and all the rest of the animal-based products.
Sure, there are vegan alternatives, but I have never craved the vegan meats quite as much as many of my vegan counterparts. This dip allows me to enjoy the flavors of barbecue, slaw, chips, and a poppyseed bun all rolled into one light, quick, beautiful, plant-based dip.
1-15 ounce can dark red kidney beans, rinsed and drained
3 cups broccoli slaw (I purchase it ready made in the produce section)
3 tablespoons BBQ sauce
1/4 cup green onions
2 tablespoons smoked almonds
1 tablespoon dill or sweet pickle juice
1 teaspoon Liquid Smoke
1 teaspoon salt
1 large clove garlic
Garnishes: a few smoked almonds, 1 tablespoon sliced green onions, 1 teaspoon Everything Bagel Seasoning
Accompaniments: chips, crackers, bagel chips, sliced vegetables, etc.
Place all ingredients in the bowl of a food processor and pulse until creamy, but textured. Spoon into a serving bowl and sprinkle with almonds, green onions, and Everything Bagel Seasoning. Serve with chips, crackers, bagel chips, sliced vegetables, etc. (For the photo, I cut a flour tortilla into triangles and lightly browned them on both sides in a dry skillet over medium heat.)
#vegancookout #veganbarbeque #plantbasedcookout #plantbasedbarbeque vegan #veganrecipes #veganfoodshare #veganfoodporn #plantbased #plantbasedrecipes #plantbasedfoodshare #plantbasedfoodporn