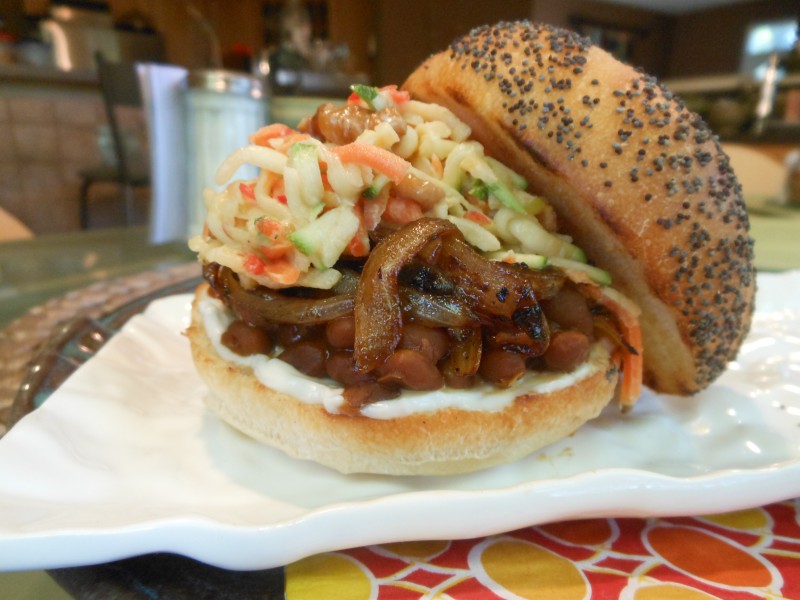 Yield: 4 sandwiches
My new Fall Festival Slaw was the inspiration for this delicious sandwich.  After I made the luscious slaw, though, it seemed to cry out for tangy BBQ beans and sweet caramelized onions.  Oh boy, what a great combination, though the slaw is a beautiful side dish on its own.
BBQ Bean Sandwich with Caramelized Onions and Fall Festival Slaw
4 sandwich rolls or 8 slices of whole grain bread, toasted
Fall Festival Slaw
Caramelized Onions
BBQ Beans
Vegan mayonnaise (I like Vegenaise)
For each sandwich, spread bottom piece of bread with about 1 tablespoon or less of mayo.  Top with 1/4 of the beans, 1/4 of the onions, and about 1/4 cup of slaw.  Serve immediately.
Fall Festival Slaw
Note:  I use the grater attachment of my food processor to grate vegetables, as it creates a nice julienne style shred.  You will have slaw left over.
2 cups grated zucchini
1 cup grated apple
1/2 cup grated carrot
1-4 to 5-inch small mild red chili pepper, stemmed and seeded, grated
1/2 cup taosted walnut pieces
1/4 to 1/3 cup vegan mayonnaise (I like Vegennaise)
1 teaspoon anise seed
1/4 to 1/2 teaspoon smoked paprika
1/8 teaspoon sea salt or to taste
1/8 teaspoon freshly ground black pepper or to taste
Place grated vegetables in a colander or strainer, press gently to remove excess moisture, and let drain for a few minutes.  Transfer to a medium bowl.  Add all remaining ingredients and combine will with a fork.  Cover and refrigerate until serving time.  Stir again before serving.
Caramelized Onions
1 tablespoon olive oil
1 large onion, slivered
1/8 teaspoon sea salt
1 tablespoon turbinado sugar
1 teaspoon Balsamic vinegar
Heat oil in a large cast iron skillet over medium-high.  Add all remaining ingredients and saute, stirring frequently, for about 15 minutes or until preferred degree of caramelization is reached.  Reduce heat if cooking too fast. While onions caramelize, prepare beans.
BBQ Beans
Use your favorite BBQ bean recipe or:
1-15.5 ounce can vegetarian (which are actually vegan) barbeque beans (I used Bush's brand with bourbon and maple syrup)
1 tablespoon prepared yellow mustard
1 teaspoon balsamic vinegar
In a small cast iron skillet or saucepan, heat together all ingredients, cooking for 7 or so minutes until thick and a little "sticky" to intensify flavors and insure that the beans will hold together nicely inside the sandwich.  Remove from heat.  Note:  you may need to tweak amount of mustard and vinegar or you may even need to add turbinado sugar depending on the type of beans you pruchase.  Mine were already sweet, so the mustard and balsamic vinegar balanced the flavors beautifully.