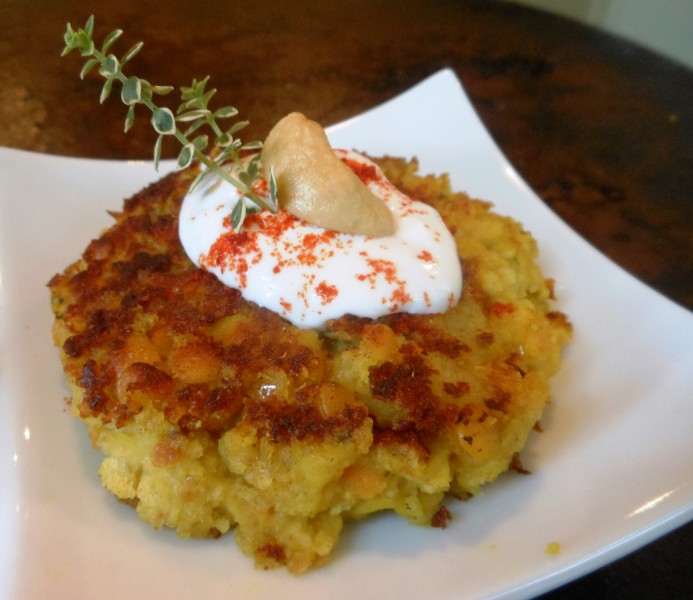 Yield: 1 serving of 2 medium cakes (easily multiplies for the amount of leftovers on-hand)
Let's just say, to put it non-judgmentally, that my husband has a very different diet than I do.  So, when I make a dish, it is usually mine and mine alone.
On Saturday, I posted a recipe for my divine Vegan Coconut Dal with Grilled Kale and Cashews which I have been enjoying all week because it serves 6.  Yesterday, wanting to finish it for lunch but perhaps in a different form, the idea for Dal Cakes sprang into my mind.
Wow, how simple and delicious!
On the way home from yoga Sunday morning, I was brainstorming what I would use to thicken the mixture to be able to shape it into patties–Panko bread crumbs, cashew meal, flour, etc.–but when it came to making them, I wondered how simple I could keep it.
Pretty darn simple as it turns out.  I just added half as much Panko breadcrumbs as I had leftovers, stirred gently with a fork and, instead of pre-shaping into patties, I just mounded the mixture into the lightly oiled and preheated skillet, flattening the tops to make about 3/4- to 1-inch thick cakes.  After a couple of minutes, they were plenty firm enough to flip, somewhere between a pancake and a veggie burger.  If you want them, firmer, however, simply add a few more breadcrumbs.
I topped mine with vegan sour cream, as we are uanble in our area to purchase vegan yogurt that isn't very sweet and quite runny.  Had I had some cucumbers, I would have diced a few up in the sour cream or placed a few slices on top.  But I didn't, and my mini-meal was still delicious.  Nontheless, wanting a hint of green and not having any cilantro, I added sprigs of lemon thyme from my herb garden.  Though there is no thyme in the dish, it seemed appropriate given the citrusy notes and lent a lovely herby freshness.  Half of a grape tomato would be a really nice addition, as well, adding contrasts of color, flavor and texture.
1 tablespoon coconut oil
1/2 cup leftover Vegan Coconut Yellow Dal with Grilled Kale and Cashews (you only need the dal part for this recipe), very thick and very cold
1/4 cup Panko or other coarse, dry breadcrumbs
Sea salt
Optional toppings: vegan sour cream/plain yogurt, pinch of chili powder or plain/smoked paprika, sliced or diced cucumber, sprigs of fresh cilantro or lemon thyme, and halved grape tomatoes
Heat coconut oil in a skillet over medium-high.  Meanwhile, in a small bowl, mix together leftover Coconut Yellow Dal with breadcrumbs and a pinch of sea salt to taste, adding more bread crumbs if necessary to reach desired consistency.  Divide mixture in half, making two mounds in the skillet and gently flattening each with a spatula to create 3/4- to 1-inch thick cakes and to help compact the cakes.   Cook for 2 to 3 minutes or until golden brown and a little crusty, loosening each cake from the bottom of the skillet with a spatula after about a minute.  Carefully flip and cook for 2 to 3 more minutes on the second side, again loosening the cakes from the bottom of the skillet after the first minute, and pressing gently on the top to compact.  Lower heat at any point if necessary to prevent scorching.  Serve immediately topped with vegan sour cream or yogurt, cucumbers, sprig of herbs and, if desired, grape tomato halves.  Note: cakes on the smaller side are easier to flip, so avoid getting over-zealous with the size.