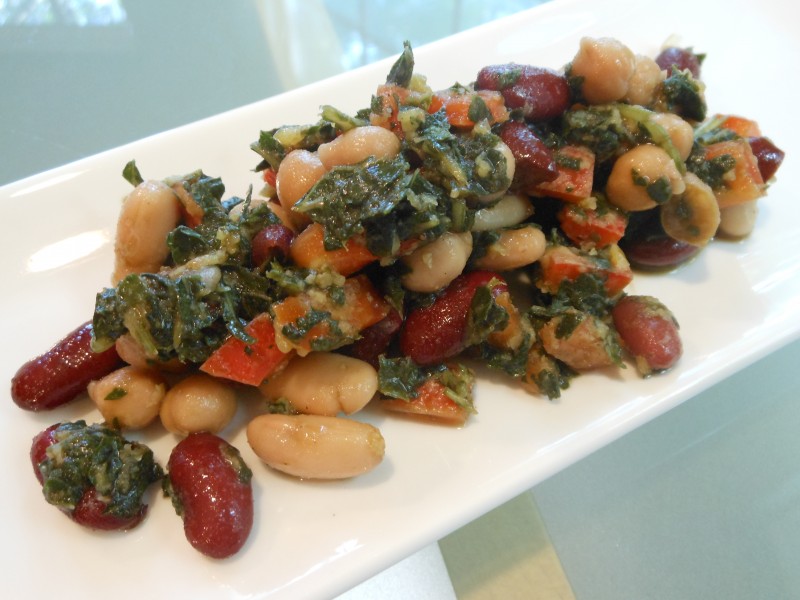 Yield: approximately 8 servings
I love ice cold, sweet 'n vinegary Three-Bean Salad, a south'ren staple.  Or, rather, I used to.  I still love the idea of it, although, these days, I prefer my salads not swimming in marinade, nor doused with white sugar.  But with summer nigh upon us, and this salad among the best ever picnic foods, I decided to make it over.
There are LOTS of recipes for this salad.  My mom's, which I enjoyed over Spring Break, calls for a can of dark red kidney beans, one of green beans, and one of wax beans, along with some onion and, I think,green bell pepper and pimento.  The marinade-like dressing calls for about a 1/2 cup each of vegetable oil, granulated sugar, and vinegar.  Oh my.
In my updated version, I use three kinds of canned cooked beans, as I'm not a fan of green veggies in a can.  But I do add some green for color and nutrition in the form of very finely chopped kale (or Swiss chard).  Though I adore raw onion, there is never a socially acceptable time to eat it, as best I can tell.  So, I substitute some onion powder, along with some garlic powder for good measure.  And for the bell pepper and pimento, why eat something from a jar when you can eat it fresh?  So, I combine the idea of the fresh bell pepper with the pimento by substituting a whole roasted red bell pepper, leaving the charred skin on for depth of flavor. But it is equally good raw when pressed for time (as in the photograph).
Wanting to stay somewhat true to the salad, the marinade is a bit sweeter than I would normally opt for, but it is WAY toned down and I think just right.  I use a mere 1/4 cup of olive oil sweetened with just 2 tablespoons of maple syrup balanced with 2 tablespoons of balsamic vinegar for tanginess that is a bit more mellow.
This salad is going to be invited to all of my summer picnics and hopefully to yours!
2 tablespoons maple syrup
2 tablespoons balsamic vinegar
4 to 5 tablespoons olive oil
1 teaspoon onion powder
1/2 teaspoon garlic powder
Sea salt to taste (avoid skimping!)
1-15.5 ounce can cannelini beans, rinsed and drained
1-15.5 ounce can chickpeas, rinsed and drained
1-15.5 ounce can dark red kidney beans, rinsed and drained
1 red bell pepper, halved, stemmed and seeded, roasted under the broiler, cooled and diced (I like to leave the lightly charred skin on for more depth of flavor or left raw and diced
1 cup finely chopped fresh kale (almost minced; I use a food processor for this task)
In a large, non-reactive bowl, whisk together maple syrup, vinegar, olive oil, onion powder, garlic powder, and salt.  Stir in beans, bell pepper, and kale, combining well.  Taste and adjust seasoning if desired.  Chill, covered, until serving time.