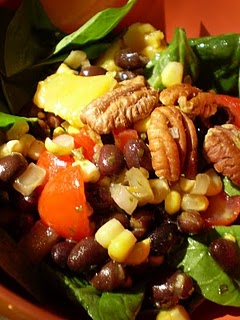 Yield: 10-12 servings
I created this salad last Sunday for a potluck dinner party that night. All of the food that our friends brought was so beautiful and summery. My contribution of veggies and black beans lightly tossed with a citrusy dressing flecked with herbs from our garden was one of two vegan dishes. The other was a pineapple-mango salsa (which I'll post soon), and both were crowd-pleasers.
I don't typically like to create work for myself, but it really was worth roasting the fresh corn for a deeper flavor even though that meant cutting it off the cob which can be messy. (However, I learned a trick somewhere that should have been quite obvious: instead of holding the cob upright to slice off the kernels, lie it down horizontally. It prevents the kernels from popping off in every direction. Why hadn't I ever thought of that?) Plus, using fresh corn means you will have cobs left over for making stock.
For this recipe and some 170+ more,

I invite you to purchase my first cookbook:
The Blooming Platter:

A Harvest of Seasonal Vegan Recipes
Vegan Heritage Press

Spring 2011