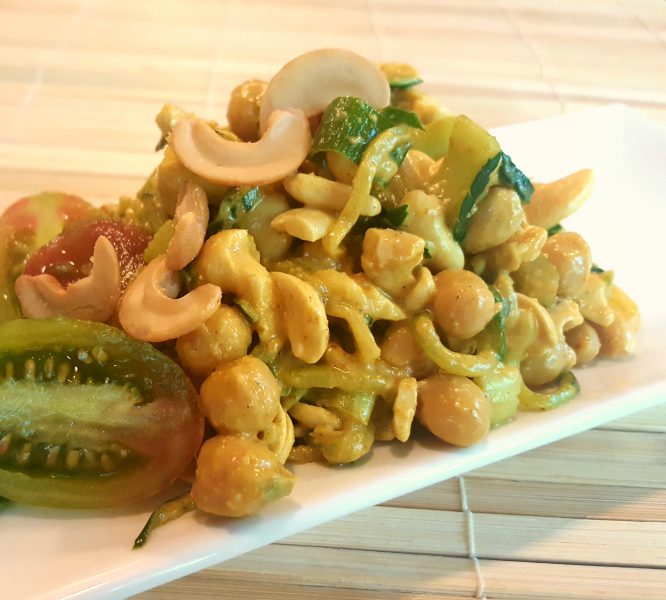 Yield: 8 servings
This beautiful protein-packed Indian spice-infused vegan salad is  my new summer crush. I want us to be together day and night.  And when we do, it's difficult to cool us off.
1/2 cup vegan mayonnaise
1 1/2 ounces prepared Indian seasoning for red lentil dal (I use Jaswant's Kitchen brand from Whole Foods, but feel free to substitute)
Juice of 1/2 large lemon or lime (I used a lemon)
2 tablespoons fresh cilantro leaves
4 cups spiralized zucchini (I purchase
2 cups raw cashews
1 can chipckpeas, rinsed and drained
6 celery hearts, diced
2 large green onions, both white and green parts, thinly sliced
Optional garnishes: halved tri-color cherry tomatoes, roasted and lightly salted cashew halves, fresh cilantro sprigs
In a small bowl, whisk together vegan mayo, spice mixtures (Jaswant's come in two tiny pouches), lemon or lime juice, and cilantro.
In a large bowl, gently toss together remaining ingredients, spoon dressing over the top, and toos to combine.  Serve garnished as desired with tri-color cherry tomatoe halves, cashews, and/or fresh cilantro.