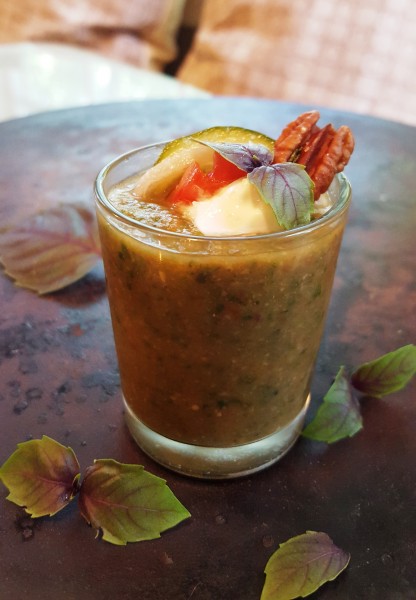 Yield: 2 servings
I deeply regret my 2 1/2 week hiatus from The Blooming Platter, and hope this is the beginning of the end of it.  As many of you know, my love, my husband of 25 years passed away from an acute coronoary on July 30 and life took on a new rhythm.
But, this past weekend, I already had a trip planned to meet my best friend from graduate school–we were both art history majors at Vanderbilt University–in Philadelphia for an "art tour."  Joe was from Philly, so we had also planned a dinner at *Vedge (oh, wow–cannot recommend highly enough!) with his two sisters and our niece on Saturday night.  Knowing the trip would be "good medicine," I didn't change my plans, and I am thankful that I didn't.
When I returned home, a friend picked me up at the airport and I invited another to stop by for dinner of chilled gazpatcho on her way home from the hospital where she had been with her mother.  Gifts of food are as much a part of death as flowers, and our friends had filled my refrigerator and freezer with a bounty of beautiful  fruit, vegetables, prepared vegan dishes and, okay, vegan cupcakes from My Vegan Sweet Tooth, a new vegan storefront bakery in town.
So, I swirled together cantaloupe, watermelon, fresh figs, an onion, a couple of cloves of garlic, a half-pint of heirloom tomatoes, and some basil from my garden with cumin and smoked paprika to make the most beautiful of soups.  Then, as if to prove correct the "grieving" books and their gentle warnings of forgetfulness as part of the process, I left it on the counter in a sparkling crystal bowl in full reach of Minnie.  It got very quiet downstairs and then she came up with gazpatcho breath detectable from a foot away!
Not angry, just fearful, I first called our vet's wife–on a Sunday–to make sure she'd survive.  And after learning that she would, I went looking for something else with which to make a cold soup.  And, though this combination of ingredients may sound a bit odd, my guest and I both thought the following combination of ingredients was delectable and I will be making it again and again.  Minne can't say, as she didn't get to taste this batch.
*V-Street, Vedge's sister street food bar, specializing in flavor- and texture-forward small plates, is not to be missed either.  We ate three of our five meals at there, each one as delightful as the previous.
White Bean and Fresh Fig Gazpatcho
1 can white beans with juice
1 large tomato, cored and quartered
approximatley 8 to 10 fresh figs
2 cloves garlic
1/2 teaspoon ground cumin
1/2 teaspoon smoked paprika
Sea salt to taste
Freshly ground black pepper to taste
Garnishes: vegan sour cream, a few marinated veggies (onion, tomato and cucumber in a light vinaigrette), green or purple basil, and spiced pecans (I used rosemary-lime)
Place all ingredients except garnishes in food processor and blend until desired consistency is reached.  Serve chilled, garnished as desired.