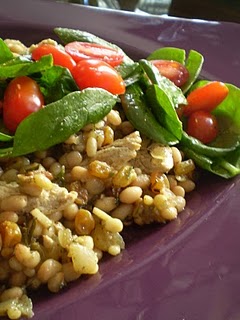 Yield: 4 servings
Honestly, I could eat all four servings of this dish at one sitting. There is something about the balance of contrasting tastes and textures that absolutely does it for me. And setting the creamy melange off with a perky side salad of lightly dressed baby spinach and grape tomatoes just sends it right off the charts. I hope you agree.
1 tablespoon olive oil
2 small onions
3 cloves garlic
Coarse sea or kosher salt to taste
freshly ground black pepper
1 tablespoon water
1/2 cup dry-sweet white wine
2 bay leaves
1/2 cup golden raisins
1 tablespoon dried rubbed sage
1 tablespoon fresh minced rosemary
2 tablespoon maple syrup
generous 1/4 cup fresh minced parsley
1/4 cup pine nuts, toasted in a small dry skillet on top of the stove, just until fragrant and barely golden
1 can white beans, preferably the tiny little ones (I didn't drain and rinse them, as they had little "juice," but you can if you prefer)
4 ounces Morning Star Meal Starters chicken flavored strips, thawed
optional: zest from 1/2 of a small lemon
optional garnish: additional parsley, pine nuts, and/or lemon wedges/zest
optional side salad: lightly dressed (I used walnut oil, vinegar, sea salt and pepper) baby spinach and halved grape tomatoes
In a large cast iron skillet over medium-high, heat oil to shimmering. Add onion, garlic, a little salt and some pepper and saute, stirring occasionally until onion is soft, slightly golden, and most of oil is absorbed. Add the tablespoon of water and continue sauteing onion and garlic until the water is evaporated. Add next 6 ingredients beginning with white wine and cook down for a total cooking time of about 12-15 minutes, including the sauteing, reducing heat to closer to medium if necessary. Add parsley, pine nuts, beans, faux chicken, and optional lemon zest, and heat through. Serve immediately garnished as desired and/or with a side salad.