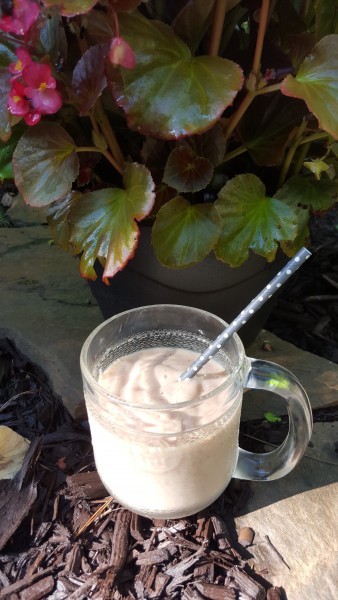 Yield: 1 smoothie
As you have probably guessed by now, I am mad about figs. And so many generous friends and neighbors have brought me baskets and jars of them following Joe's passing.
Tonight is our 7th annual Julia Child Birthday Bash–stay tuned for fabulous recipes and photos in the next few posts!–and I am making my Five-Minute Curried Figs Brulee, but I still have more than we will be able to enjoy this evening.
So, I made a fig smoothie today to drink on the way to yoga. Perfection!
Here's the simple recipe:
1 cup ice
1 cup unsweetened soymilk (or your favorite plain or unsweetened non-dairy milk)
12 small fresh figs, stemmed
1 tablespoon orange juice concentrate (organic preferred)
Optional: sweetener of your choice to taste (I think it is sweet enough without adding additional sweetener)
Place all ingredients in a blender or, my preference, Nutri Bullet, and blend until very smooth.  Serve immediately.