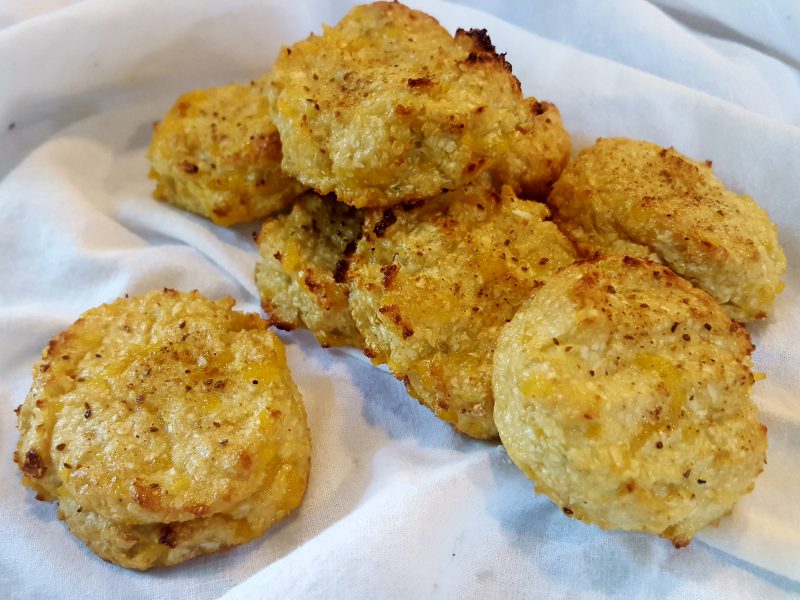 Vegan Cauliflower Cheese Biscuits–yowza!
Yield: 1 dozen biscuits (only 28 calories each, including the butter!)
As I was developing the recipes for my hard-to-beat cauliflower tart dough and cauliflower pizza dough, I stumbled across a reference to cauliflower biscuits. Specifically, cauliflower cheese biscuits. My interest was definitely piqued.
Home from school as hurricane Florence bears down on the East Coast, and avoiding grading quite admirably, I decided to experiment. I got these right on the first try!
What distinguishes my cauliflower based recipes, in part, are that they do not require pre-cooking of cauliflower as virtually all of the recipes do. I simply can't take time for an additional step. And my final products are delicious with beautiful texture.
As for biscuits, I grew up in Mississippi, and I know from good biscuits. When I was in high school, Hardee's introduced their biscuits and my boyfriend and I would spend Saturday mornings trying to duplicate them. I am a biscuit fanatic, but I haven't eaten even vegan ones in years because of the calories.
However, a whole batch of these biscuits has about the same calories as one regular biscuit, vegan or not! Are they an exact replica of a biscuit? No, but they somehow satisfy much of the same craving.
1 pound trimmed cauliflower
3 tablespoons water
2 tablespoons Vegan Egg (available as a powder at healthier grocery stores)
1/4 teaspoon garlic powder
1/4 teaspoon sea salt
1/4 cup shredded vegan cheddar cheese ( I used Daiya)
Optional: Chesapeake Bay Seasoning
1 tablespoon vegan butter, melted
Preheat oven to 400 Degrees. Line a baking pan with a silicone baking mat, if available, and spray with non-stick spray. I used Baker's Joy which has flour mixed with the oil.
Place cauliflower, water, Vegan Egg powder, garlic powder, and sea salt in the bowl of a food processor. Process until the consistency of a very slightly textured cookie dough. Pulse in cheese.
Using a cookie scoop, place 12 balls of dough a couple of inches apart on prepared baking sheet, and then slightly flatten to make a biscuit shape. If desired, sprinkle very lightly with Chesapeake Bay Seasoning and bake for 30 minutes. Brush tops with melted butter, remove to a wire rack to cool slightly, and serve warm.
#vegan #veganrecipes #veganfood #veganfoodshare #veganfoodporn #plantbased #plantbasedrecipes #plantbasedfood #plantbasedfoodshare #plantbasedfoodporn