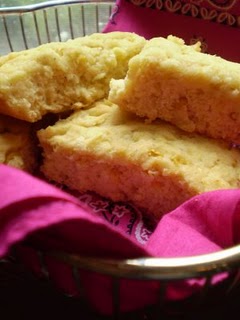 Yield: 8 fingers (one 8 x 8″ pan)
As a child, I loved my mom, Sallie's, Double Corn Fingers. When my dad occasionally went out of town, she would make a batch and we would eat them warm out of the oven with a glass of milk, calling it dinner. As an adult, they were a cinch to veganize, allowing me to indulge in some nostalgic noshing.
generous 1/4 cup vegan butter (I like Earth Balance)
1/2 cup + 2 tablespoons self-rising flour (plus extra for dusting work surface)
1/2 cup self-rising cornmeal mix
1/2 cup creamed corn
Preheat oven to 425 degrees. Place butter an 8-inch square metal baking pan and slide into oven just until butter melts. Remove pan and set aside. Meanwhile, in a medium size mixing bowl, combine self-rising flour and cornmeal. Make a well in the center and pour in creamed corn and about half of the melted butter. Stir together with a fork until completely combined. Dough will be a little sticky. Turn out onto a lightly floured surface and turn ball of dough once or twice to make sure surface won't stick. (Too much flour will toughen and dry out the corn fingers.) With lightly floured fingers, pat dough into about a 6-inch square. Cut in half crosswise, and then cut each half vertically into four fingers. Swirl butter around pan and then, working with one corn finger at a time, place it into the butter and then gently flip it over to coat both sides. Place corn fingers close together in two rows in pan. Bake for 15 minutes or until lightly golden on top. For extra decadence, you can brush a little vegan butter on the tops while they are still hot.
Note: This recipe easily doubles. Just double all ingredients and bake in a 9 x 13-inch pan.