This recipe is a crowd-pleaser regardless of the season!  And I'm posting it now so you can make sure to have all ingredients on hand by the time the weekend arrives.
The first iteration of it, which I created for The Blooming Platter Cookbook, appears in the spring section of the Brunch chapter, for it was made to be topped with fresh berries.  When I tested the recipe in the summer of 2010, I served it topped with blueberries to my good friend Maggie Test (yes, that's really her last name).  She proclaimed its texture to be perfect, like a bread pudding for breakfast (though there is no bread in the recipe, only healthy oatmeal).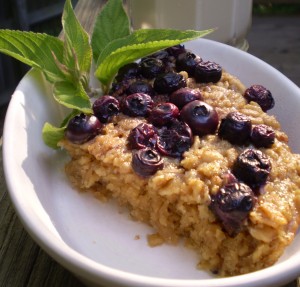 So, for the weekend house party my husband hosted for my birthday last May, I made it as our Sunday "morning-after" brunch dish.  It was a huge hit with everyone and lent itself perfectly to people rising at different times, as servings can be popped into the microwave for reheating.
At the end of last week, the weather finally turned cool here in coastal Virginia and the leaves are beginning to turn right along with it.  So, I found myself craving a warm comfort-food type weekend breakfast, but nothing too heavy.  Baked oatmeal came immediately to mind.  But, with berries long out of season, I thought of pumpkin of which I can't get enough this time of year.  I crave it in everything.
I used the recipe I created for my cookbook, simply reducing the cup of soy milk to 1/2 cup, and adding 1/2 cup pumpkin puree plus 2 teaspoons of pumpkin pie spice.  Then, instead of studding the top with berries, I used nuts.  Oh, and I topped the serving you see in the photo with some Vegan Pepita Caramel Sauce, but that's just guilding the lily and, I have to admit, turns the dish into more of a dessert.
The only difficult aspects of this dish are 1) waiting 8 hours to bake it, and 2) not eating the entire recipe in one sitting!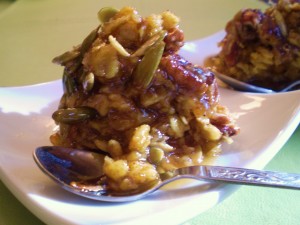 Yield: 8 servings
6 ounces firm silken tofu
1/2 cup soy milk
1/2 cup pumpkin puree
1/2 cup canola oil
3/4 cup natural sugar
1 tablespoon baking powder
2 teaspoons pumpkin pie spice
1/2 teaspoon sea salt
3 cups old-fashioned oatmeal
2 tablespoons natural sugar
1/2 teaspoon ground cinnamon
1/2 cup coarse-chopped pecans or walnuts
1. Lightly grease a 9-inch glass or ceramic pie pan and set aside. Combine the tofu, soy milk, canola oil, sugar, baking powder, pumpkin pie spice, and salt in a food processor. Process until smooth, scraping down the sides of the bowl as necessary. Transfer the mixture to a medium mixing bowl and stir in the oatmeal. Spoon this mixture into the prepared pan, gently  smoothing the top. Sprinkle the surface with the remaining sugar and cinnamon, cover with foil, and refrigerate 8 hours or overnight.
2. When ready to bake, remove the dish from the refrigerator and preheat the oven to 350ºF. Sprinkle the top surface of the oatmeal with nuts, and bake for 25 minutes or until just firm. Serve hot.  Cover the pan with foil if the nuts start browning too quickly.
Note: The oatmeal may be reheated by covering the baking dish with foil and placing it in a cold oven. Turn the oven temperature to 300ºF. and heat for about 20 minutes, or until warm.  The oatmeal may alternatively be reheated in the microwave.  Start with 30 seconds and add additional time as necessary.