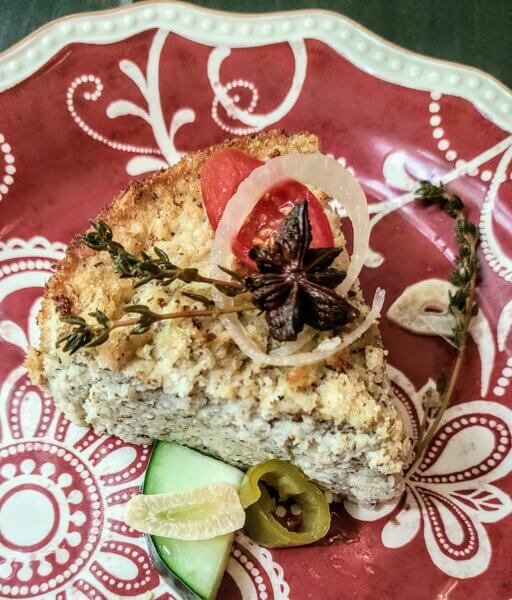 If cornbread and a souffle had a love child, it would be spoonbread. My version is low calorie–even with rich plant-based butter–and includes no corn, but somehow has a slightly corny taste. Regardless, it is luscious. You can leave out garlic and onion powders and serve with maple syrup for breakfast or brunch.
1 pound frozen riced cauliflower, cooked (I use the steam-in-bag type)
1 cup plain nondairy milk (I use unsweetened soy)
3 tablespoons flaxseed meal
1 tablespoon vegetable-based oil
1/3 cup coconut flour (lends a slightly sweet flavor)
1 1/2 teaspoons baking powder
1/2 to 1 teaspoon sea salt
1/4 teaspoon garlic powder
1/4 teaspoon onion powder
1/8 teaspoon ground black pepper
2 tablespoons melted butter (I use Miyoko's)
Grease an 8″ souffle dish and set aside. Preheat oven to 350 degrees. Place all ingredients, except butter, in large food processor and process until smooth. Transfer to prepared dish, drizzle with butter, and bake for 45 minutes for a soft consistency or 50 for a slightly firmer consistency. The dish is spoonable while warm and sliceable once cooled.
Note: I enjoy it served with escabeche.