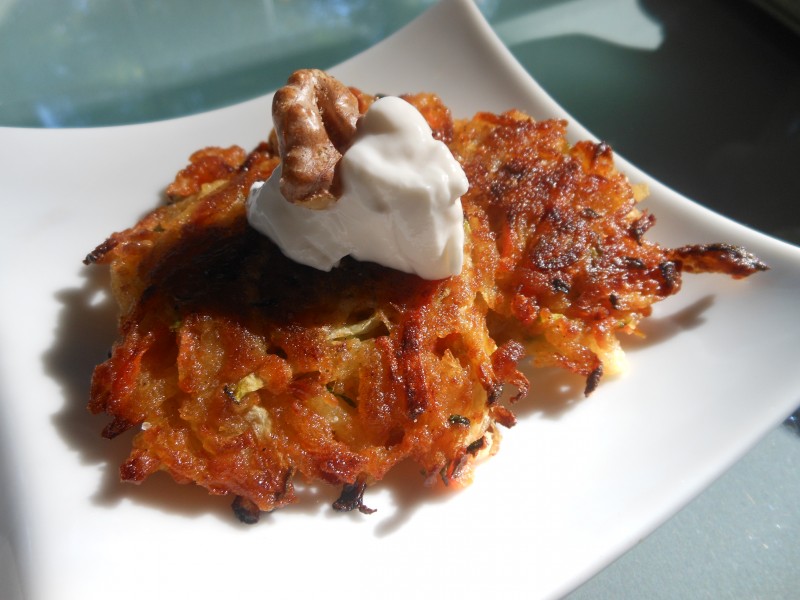 Yield: 8 fritters
After a Saturday visit to the farmer's market, I had a beautiful zucchini and VA apple, along with a large carrot in the fridge.  I was in the mood for a slaw to top a sandwich, but after I had grated up these ingredients, I had far more than I needed for that.
Theshreds reminded me of latkes, so the idea of fritters popped into my mind.  I scooped out half the shreds of the zuke, apple and carrot, added a very few more ingredients, and quickly tossed together these beautiful fritters that personify autumn: delightfully crunchy on the outside, creamy on the inside!
Note:  I use the grater attachment of my food processor for shreds that are like a very fine julienne.
2 cups grated zucchini (about half of a 7 to 8-inch zucchini)
1 cup grated apple (about 1 large apple)
1/2 cup grated carrot (about half of a 7 to 8-inch carrot)
1/2 cup flour
1/2 teaspoon baking powder
1/4 teaspoon baking soda
1/4 teaspoon ground cinnamon
1/8 teaspoon sea salt + additional for sprinkling.
1/8 teaspoon freshly ground black pepper
Olive or canola oil for frying
Garnish: vegan sour cream, walnut pieces, toasted or not, and maple syrup
Line a plate with paper towel.  Preheat oven to low.  Place first 3 ingredients in a large bowl.  Do not drain, as the moisture is essential to help the fritters hold together.  In a small bowl, whisk together all remaining ingredients, sprinkle over vegetables, and stir with a fork until completely combined.  The consistency will be almost like cookie dough.  In a large cast iron skillet, heat 1/8th inch oil over medium high.  Divide dough into 8 equal parts, scooping four mounds into skillet and flattening with fingers to about 1/2-inch.  Sprinkle with a tiny bit of salt, and cook 2 to 3 minutes or until golden brown, lowering heat and swirling pan to redistribute oil if necessary.  Flip with a spatula, sprinkle with a tiny bit more salt, and cook another 2 to 3 minutes or until crisp and golden.  Remove to prepared plate and keep warm.  Repeat with more oil and remaining dough.  Serve warm, garnished with vegan sour cream, walnut pieces and maple syrup.