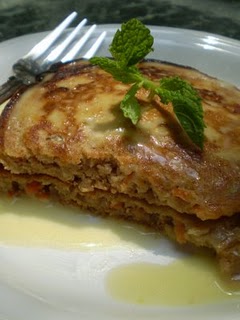 Yield: 8 pancakes
One of my favorite cakes is now suitable for breakfast. Carrot Cake Pancakes are not only a delectable way to start the day, but a tasty way to sneak a bit of carrot into a recalcitrant child's (or partner's) diet.
I love vegan cream cheese frosting on carrot cake and I also like a hint of orange zest in or on the cake. So, while I didn't have any oranges, I did have some Orange Sauce left over from my Gingerbread Pancakes last week. *I reheated it and whisked it together with vegan cream cheese to make a lite and lovely sauce for the Carrot Cake Pancakes that is reminiscent of the frosting I'm crazy for, but without the calorie damage.
*Note: I reheated the Orange Sauce very gently, as reheating a sauce bound with arrowroot powder can cause the sauce to "break" and become runny. It did become just a little thinner, but you won't run into that challenge if you make the Cream Cheese-Orange Sauce from scratch rather than reheating leftover Orange Sauce, as I did.
For this recipe and some 170+ more,
I invite you to purchase my first cookbook:
The Blooming Platter:
A Harvest of Seasonal Vegan Recipes
Vegan Heritage Press
Spring 2011