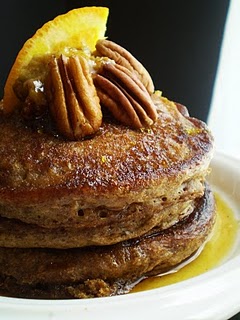 Yield: 6 pancakes
These sunny pancakes were inspired by a favorite childhood breakfast treat: those Pillsbury cinnamon rolls with orange frosting.
My plan was to make cinnamon-orange pancakes, which I did, with an orange powdered sugar glaze, which I didn't. It turns out that I was out of powdered sugar (almost unheard of in our house). So, instead I made something that is quite possibly better: orange-maple syrup with an orange-brown sugar-butter pecan topknot (which I inadvertently almost concealed with those enormous pecan halves).
Garnished with an orange slice and pecan halves, I'd say these pancakes were about perfect. Hope you agree.
½ cup whole wheat flour
½ cup self-rising cornmeal mix
3 tablespoons brown sugar
2 teaspoons ground cinnamon
½ teaspoon baking powder
¼ teaspoon baking soda
1 cup unsweetened soymilk (plain or vanilla soy milk would also be good–regular or lite)
1 generous teaspoon orange zest
Vegan butter and/or vegetable oil for frying
Vegan Orange-Maple Syrup (recipe follows)
Vegan Orange-Brown Sugar-Pecan Butterball Topknot (recipe follows)
Garnish: orange slices and pecan halves
Preheat oven to warm. In a medium mixing bowl, place first 6 dry ingredients. Make a well in the center and pour in soymilk and orange zest. Whisk together until well combined. In a large cast iron skillet or griddle over medium-high heat, melt 1 tablespoon of the vegan butter, oil or a combination. (I like a combination: the oil reduces chances of burning while the butter contributes flavor.) Using a 1/4 cup measure, make pancakes, two at a time. Cook two-three minutes on the first side until you get a nice rise, a few bubbles appear around the edges, and the edges appear set. (These tend to bubble only on the edges.) Gently flip and cook another couple of minutes on the reverse. Add butter and/or oil to keep skillet greased as needed. If pancakes are cooking too quickly, lower heat to medium, especially for second side. When cooked through, remove pancakes to plates or a serving platter, keep warm, and repeat with remaining butter or oil and pancake batter. Serve topped with Vegan Orange-Maple Syrup, Vegan Orange-Brown Sugar-Butter Pecan Topknots and a garnish of orange slices and pecan halves.
Vegan Orange-Maple Syrup
4 tablespoons maple syrup
2 generous teaspoons orange zest
Mix together and heat for a few seconds in the microwave. Recipe halves or doubles easily.
Vegan Orange-Brown Sugar-Butter Pecan Topknot
4 tablespoons softened vegan butter (I like Earth Balance)
4 tablespoons brown sugar
4 tablespoons broken or chopped pecan pieces
2 teaspoons orange zest
Mix together with fingers until well combined. Refrigerate until serving time. I like to use a small scoop to make a true butterball as the topknot.