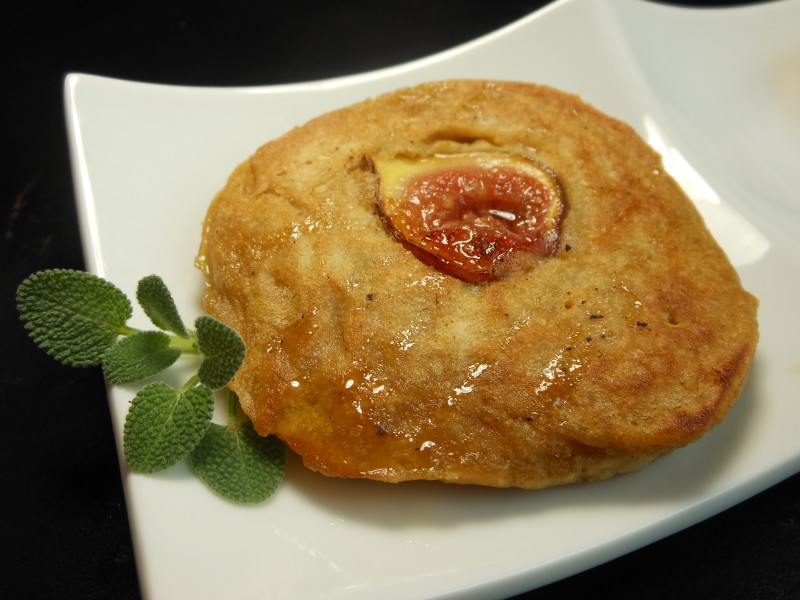 Yield: 8 servings (16 small pancakes)
The other morning, for some reason, I was thinking about pineapple upside down cake and how nicely that translates into pancakes.  Suddenly, I had to have pancakes, though I am not much of a breakfast eater, unless I have breakfast for lunch.  I didn't have pineapple, but I did have fresh figs and Vegan Fresh Fig Upside Down Pancakes were born!
The ground sumac– a beautiful earthy red powder derived from a berry of the sumac bush–is used in Middle Eastern and Greek cooking.  Since I think of figs in relation to Middle Eastern cuisine, and since I thought that the earthy lemony flavor of the sumac would complement the sweetness of the figs, I chose to add a little to the batter.   It's not absolutely essential, but it is delicate, delicious, and adds such a special quality.  Find sumac in Middle Eastern grocery stores and online.
Sage, too, is used widely in Middle Eastern and Greek cooking and I happen to have quite an abundant crop of it this year.  So I decided to garnish the pancakes with some of their most small and tender leaves to add a subtle sage-y flavor.  Eaten together, the trio is transcendent!
2 cups white whole wheat flour (this is what I keep on hand, but unbleached all purpose is fine, as is a mixture of all purpose and whole wheat)
1/4 cup natural sugar
2 teaspoons sea salt
1 teaspoon baking powder
1/2 teaspoon baking soda
Optional, but delicious: 1/2 teaspoon sumac
2  cups plain soymilk (I used lite, as that's what I had)
Nonstick spray or canola oil
8 fresh figs, stemmed, halved and sprayed with nonstick spray or brushed with oil
Accompaniments: agave nectar and a sprig of small tender fresh sage leaves (yes, sage!–sounds a little odd, but is delicious with the figs!)
In a medium bowl, whisk together all dry ingredients, make a well in the center, add soymilk, and whisk ingredients together until smooth.  Heat a large well-oiled skillet over medium high and make pancakes, 3 or 4 at a time, using 2 to 3 tablespoons of batter (they should be about 3 inches in diameter).  Cook for about a minute, lay a fig half, flesh side up, in the center of each pancake, pressing very gently.  You don't want to submerge or for the batter to hide the fig when you flip it.  Cook for another minute or two or until golden brown on the other side, carefully flip, and cook until set, another couple of minutes or so.  Repeat with remaining batter, keeping pancakes warm while you cook the entire batch.  Serve pancakes, fig side up, with a drizzle of agave nectar and a sprig of fresh sage.  Note:  if a very thin layer of the batter has eased over the edge of the fig, just pinch it off to reveal the perfect shape of the fig.