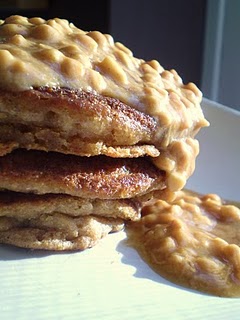 Yield: 6 pancakes (8 if you use self-rising flour)
As my regular readers know, I am a fool for pancakes, especially those that capture my favorite taste sensations from one context and present them in the form of a stack of these delicious disks. In this case, my inspiration was a favorite childhood snack of peanut butter on graham crackers. The graham cracker flavor is subtle, but undeniable, and the texture exactly right: a tiny bit more toothsome than pancakes made only with flour, but still pleasantly cakey. And the Vegan Peanut Butter-Maple Syrup? All I can say is, "Look out!" It's easy to ladle on too much and, if you do, it'd impossible not to eat it all.
½ cup whole wheat flour or self-rising flour (the latter will yield slightly taller and a couple more pancakes)
1/2 cup fine graham cracker crumbs (you may need to make your own to avoid honey)
4 tablespoons granulated sugar
½ teaspoon baking powder
¼ teaspoon baking soda
1 cup unsweetened soy milk (plain or vanilla soy milk would also be good–regular or lite)
Vegan butter and/or vegetable oil for frying
Vegan Peanut Butter-Maple Syrup (recipe follows)
Preheat oven to warm. In a medium mixing bowl, place first 5 ingredients. Make a well in the center and pour in soy milk. Stir together with a fork until well combined. In a large cast iron skillet or griddle over medium-high heat, melt 1 tablespoon of the vegan butter, oil or a combination. (I like a combination: the oil reduces chances of burning while the butter contributes flavor.) Using a 1/4 cup measure, make pancakes, two at a time. Cook a couple of minutes on the first side until you get a slight rise and the edges appear set. (These pancakes will not develop lots of bubbles, except around the edges, to indicate doneness.) Gently flip and cook another couple of minutes on the reverse. Add butter and/or oil to keep skillet greased as needed. If pancakes are cooking too quickly, lower heat to medium, especially for second side. When cooked through, remove pancakes to plates or a serving platter, keep warm, and repeat with remaining butter and pancake batter. Serve warm with Vegan Peanut Butter-Maple Syrup.
Vegan Peanut Butter-Maple Syrup:
4 tablespoon smooth or chunky peanut butter
4 tablespoons pure maple syrup
Whisk together and heat gently in microwave for a few seconds. Note: you can make as much syrup as you like; just whisk together equal parts of peanut butter and maple syrup.