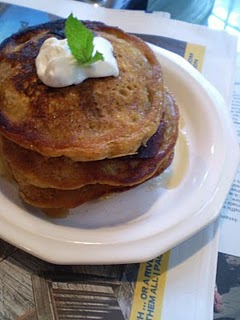 Yield: 8 pancakes
I'm not a beer drinker, so a partial bottle of Heineken Lite leftover from last night's beer-battered dill pickle slices was "burning a hole" in our fridge. It crossed my mind while making that batter that I bet the beer would make excellent pancakes. I love the way it fizzes and bubbles.
When I woke up this morning quite late and starved–I couldn't sleep last night for several hours but finally nodded off at around 5 or so–I remembered the beer and decided to give it a try. Thinking of ginger beer, I decided to add some ground ginger to the batter and delicious "Ginger-Ale" pancakes were born.
Ginger and peaches seem made for each other, but peaches are not yet in season here. However, I did have some peach butter, a gift from my sister-in-law, Tina. So, I spread it between the pancakes and drizzled plain maple syrup over the top. Feeling that they needed just a little color, I crowned them with a small dollop of vegan sour cream and a fresh mint sprig from our garden. I loved the end result, especially for the cooler months. Come summer, I will definitely serve my new "Ginger-Ale" pancakes with diced fresh peaches.
Hopefully, with this nice long weekend–at least in the U.S.–you might have an opportunity to try them sooner rather than later. Happy Memorial Day!
½ cup whole wheat flour
½ cup self-rising cornmeal mix
1/2 cup oatmeal + 8 teaspoons (optional)
4 tablespoons brown sugar
1/2-1 teaspoon ground ginger (start with smaller amount and adjust if desired)
½ teaspoon baking powder
¼ teaspoon baking soda
1 generous cup "ale" (I used Heineken Lite, but use your favorite)
Vegan butter and/or vegetable oil for frying
Peach Butter (or diced fresh peaches)
Maple Syrup
Garnish: small dollops of vegan sour cream and sprigs of fresh mint
Preheat oven to warm. In a medium mixing bowl, place first 7 dry ingredients, except for the 8 teaspoons of oatmeal. Make a well in the center and pour in ale. Whisk together until well combined. In a large cast iron skillet or griddle over medium-high heat, melt 1 tablespoon of the vegan butter, oil or a combination. (I like a combination: the oil reduces chances of burning while the butter contributes flavor.) Using a 1/4 cup measure, make pancakes, two at a time. Cook two-three minutes on the first side until you get a nice rise, a few bubbles appear, and the edges appear set. (If desired, while they cook on the first side, sprinkle about 1 teaspoon of oatmeal over the top for a little added texture.) Gently flip and cook another couple of minutes on the reverse. Add butter and/or oil to keep skillet greased as needed. If pancakes are cooking too quickly, lower heat to medium, especially for second side. When cooked through, remove pancakes to plates or a serving platter, keep warm, and repeat with remaining butter or oil and pancake batter. Spread peach butter between 2 pancakes, drizzle with maple syrup and top each stack with vegan sour cream and mint sprigs if desired. If fresh peaches are in season, you may substitute fresh diced peaches for peach butter and/or spoon over the top after drizzling with maple syrup.