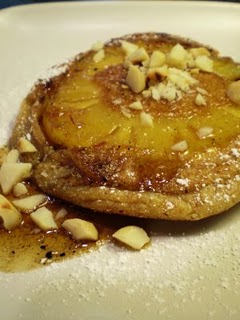 Yield: 6 pancakes
Inspired by pineapple upside-down cake, these pancakes have one foot in the 1950s and one in the 21st century. With a coconut milk batter, rings of fresh pineapple, brown sugar-maple syrup and a garnish of powdered sugar and macadamia nuts, they are both American-retro and fusion-forward. Add a little rum extract to the syrup for a deeper taste of the tropics.
Pancakes:
6-1/4″ thick slices of fresh pineapple, trimmed, cored, and drained well between several layers of paper towel
½ cup whole wheat flour
½ cup self-rising flour
½ teaspoon baking powder
¼ teaspoon baking soda
optional: 2 teaspoons brown sugar
1 cup coconut milk (use the real thing, not "lite")
optional: 1/4-1/2 teaspoon coconut extract
approximately 1 1/2 tablespoons vegan butter (I like Earth Balance)
1 tablespoon brown sugar
Syrup:
4 tablespoons brown sugar
3-4 tablespoons warm water
4 tablespoons maple syrup
optional: 1/4-1/2 teaspoon rum extract
Garnish:
2 tablespoons powdered sugar
2 tablespoons toasted and chopped macadamia nuts (toast nuts whole in a dry skillet over medium heat, stirring frequently, until golden–watch carefully–cool and chop coarse-fine)
In a medium bowl, stir together the flours, baking powder, baking soda and optional brown sugar. Slowly stir the coconut milk and optional coconut extract into the dry ingredients. Stir or whisk until well combined. In a large well-seasoned cast iron skillet over medium-high heat, melt one-half tablespoon of butter and swirl to cover the bottom. (Use more butter if skillet ever appears dry.) Using a 1/4 cup measure, make two pancakes spreading each one ever so slightly just to flatten tops. Place one pineapple ring on top of each pancake and press gently to nestle them into the batter, allowing the batter to rise around the edges and squeeze up through the holes of the pineapple rings. Cook two-three minutes on the first side or until a few bubbles appear and batter begins to appear set. Sprinkle pineapple slices with 1/2 teaspoon brown sugar each, gently patting into the surface. Gently flip pancakes and cook another couple of minutes on the reverse. If pancakes are cooking too quickly, lower heat to medium. When cooked through, remove pancakes to plates or a serving platter, pineapple side up, and keep warm while you repeat two more times with remaining butter, pancake batter, pineapple slices and brown sugar.
To make the syrup, add brown sugar and water to whatever butter remains in the skillet. Stir to dissolve sugar and then stir in syrup. Cook gently, stirring frequently, for a minute or so until syrup thickens slightly. Add rum extract if desired. Pour over pancakes, sift powdered sugar around edges of pancakes so as not to conceal pineapple rings, and sprinkle nuts in the center holes. Serve warm.