Yield:  Approximately 8-10 silver dollar pancakes
Here in America, Thanksgiving approaches.  It is so many people's favorite holiday, and for good reason.  Non-denominational and, in fact, not necessarily religious in any direct way, it tends to be a gracious gathering of friends and family who come together to share a traditional meal of fall favorites while giving thanks to anyone for anything they choose.
Pumpkin dishes typically take center stage on the menu, but I crave them before, during and after.  If you're celebrating Thanksgiving late in the day, you might enjoy these pancake-fritters for breakfast; or if your clan breaks bread earlier in the day, try these treats the morning after.   Or, heck, go ahead and make them today!
I call them "pancake-fritters" because they are a hybrid, but not by design, at least initially.  Rather, the pleasant "stickiness" of the batter and the amount of sugar meant that my first batch, cooked as regular pancakes, had to be put down the disposal!  I discovered that they have to be small, and they have to be pan fried in a bit more oil than what pancakes require to prevent them from sticking to the skillet and scorching.
So don't be tempted to make these as larger pancakes or use less oil or yours will meet the same fate as mine.  My second try is what you see pictured and well worth the failed experiment.   The resulting pancake-fritters are a little oilier than a pancake, like a fritter or even a fried cake doughnut, with a crispy exterior and a soft and tender interior.
Pumpkin pancakes are a dime a dozen, so while a half-cup of leftover pumpkin initiated the recipe, the desire for a twist on a classic resulted in the addition of oatmeal and espresso powder inspired by my Baked Pumpkin Spice Oatmeal with a cup of coffee.   Enjoy and Happy Thanksgiving!
1/2 cup white whole wheat flour (or unbleached all-purpose)
1 cup old fashioned oats
4 tablespoon natural sugar
2 teaspoons pumpkin pie spice
1 teaspoon baking powder
1/2 teaspoon baking soda
pinch sea salt
1/4 cup soymilk (I use unsweetened, but plain is fine)
2 teaspoons instant espresso
1/2 cup pumpkin puree
1/4 teaspoon vanilla extract
Optional garnish: maple syrup plus a dab of vegan sour cream and a walnut piece per pancake
Preheat the oven to warm and line a plate with a double thickness of paper towel.  In a medium bowl, whisk together the first 7 dry ingredients and make a well in the center.  In a small bowl, whisk together soymilk and espresso powder to dissolve the latter.  Then whisk in pumpkin puree and vanilla.   Pour the wet ingredients into the well and whisk all together just until combined.  In a large cast iron skillet, heat about 1/8 inch of canola oil over medium-high.   Make pancakes-fritters, 4 at a time, using 1 rounded tablespoon of batter, gently smoothing the  top.  Cook for about 2 minutes per side, loosening each pancake from the bottom of the pan with a metal spatula after a minute or less of cooking, just enough time for the pancakes to be set enough to gently lift.  Reduce heat if cooking too fast.  Remove to the lined plate, cover with more paper towel, and keep warm in the oven while you continue with the remaining batter in the same manner.  Serve each garnished with maple syrup, a dollop of vegan sour cream and a walnut piece.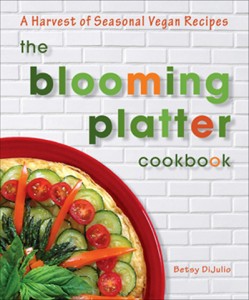 For 150+ additiona recipes perfect for this and every season, I invite you to check out The Blooming Platter Cookbook: A Harvest of Seasonal Vegan Recipes.