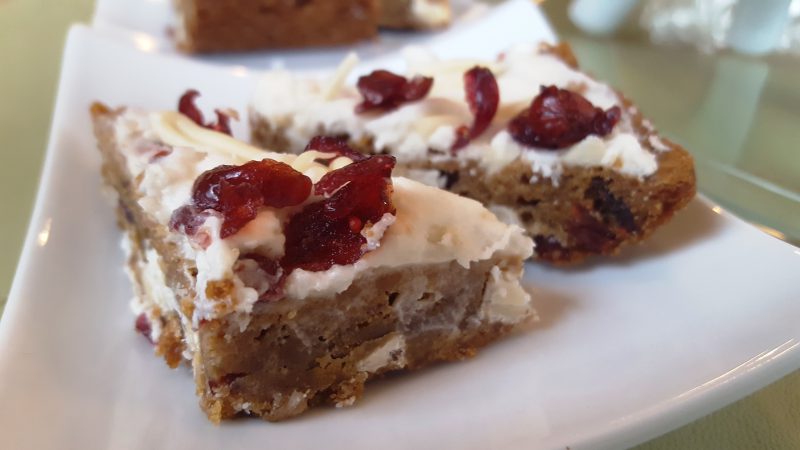 So sorry this is too late for the just-passed holidays.  But there is always next year's celebration…or no celebration at all, just a craving for a delicious, beautiful sweet. Thanks to one of my newest creations, I need no longer stare longingly at these bars in the bakery case at Starbucks every morning on the way to school:
While I have found that most of my baked goods don't require an egg substitute, something told me that these might in order to get just the right texture.  And something told me to try Follow Your Heart Vegan Egg.  I think the results speak for themselves.
BLONDIE LAYER:
3/4 cup vegan butter, melted and still warm
3/4 cup granulated sugar
3/4 cup packed light brown sugar
1/4 cup Follow Your Heart Vegan Egg (powdered substitute)
1/2 cup water
3/4 teaspoon vanilla extract
2 1/4 cups all-purpose flour (I use white whole wheat)
1 1/2 teaspoons baking powder
1/4 teaspoon salt
1/8 teaspoon ground cinnamon
1/2 cup dried cranberries, coarsely chopped
6 ounces vegan white chocolate chips
FROSTING:
8 ounces vegan cream cheese, softened
1 cup powdered sugar
6 ounces vegan white chocolate chips, melted
1/2 cup dried cranberries, coarsely chopped
DIRECTIONS:
Preheat oven to 350 degrees F. Spray a 9×13-inch baking dish with nonstick spray.
Combine warm melted butter and both sugars in the large bowl of an electric mixer. Let cool to room temperature. In a small bowl, whisk together egg replacer and water. Beat into butter mixture on medium speed, along with vanilla, just until combined. Beat in half the flour, just until combined, followed by the remaining half of flour, plus baking powder, salt, and cinnamon. Stir in the cranberries and white chocolate chips (the batter will be thick). Spread the batter into prepared pan.
Bake for 18 to 21 minutes or until a toothpick inserted near the center comes out clean. Do not overbake. Cool completely on a wire rack.
Meanwhile, in the large bowl of an electric mixer, beat the cream cheese and powdered sugar on medium speed until fluffy. Gradually add half the melted white chocolate, beating until well-blended. Frost the bars, sprinkle with cranberries, and drizzle with remaining melted white chocolate. I use a pastry bag fitted with a small round tip for this task.
Store, covered, in refrigerator until 30 minutes before serving. Remove from refrigerator and allow to sit, uncovered for about a half hour. Cut into squares and then triangles to serve.