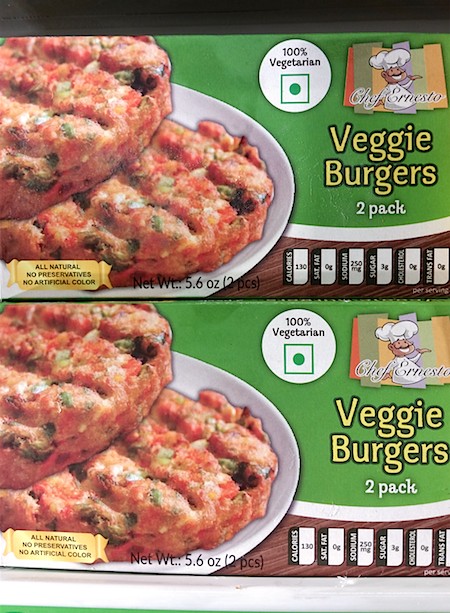 As a high school art teacher frequently in need of cheap prizes (fun erasers, pencil sharpenters, etc.) for my "Prize Patrol"–a bin of prizes I award to the winners of art-related competitions during our morning journal entries–I often find myself in Dollar Tree, a locally-grown (get it?) company.  Wherever you live, I hope Dollar Tree has come to your area.  It's a life-saver for so many occasions.
Recently, I was standing in the checkout line behind a woman who decided that she didn't want the box of veggie burgers she had picked up.  I quickly said that, if they were vegan, I would be happy to try them.  And they were (though they are called "100% Vegetarian")!  Chef Ernesto's Veggie Burgers come two to a box and the box costs, yep, $1, as does everything in the store.
While they are not necessarily the best veggie burgers I have ever eaten–the texture is a bit soft for my taste–they are respectable and right tasty.  A little spicy, they are packed with recognizeable veggies, but they are also a little oily (though they contain no trans fat or saturated fat).  So they definitely aren't plagued by dryness, as so many brands are.  I would recommend blotting them on paper towels before serving, and I would heat them in a skillet rather than the microwave for a hint of crunchiness on the exterior.
Each all-natural pattie contains 130 calories and, at 5 grams, not terribly packed with protein but, again, for 50 cents a burger, they are a bargain and I will likely be purchasing more.  The vegan line also includes Vegetable Samosas and Battered Mushrooms (that look breaded to me), so, if you have access to a Dollar Tree, check them out and let me know what you think.